Ban Jing Shock 230mm Adjustable Low-Down Black (DIO, QMB, Ruckus)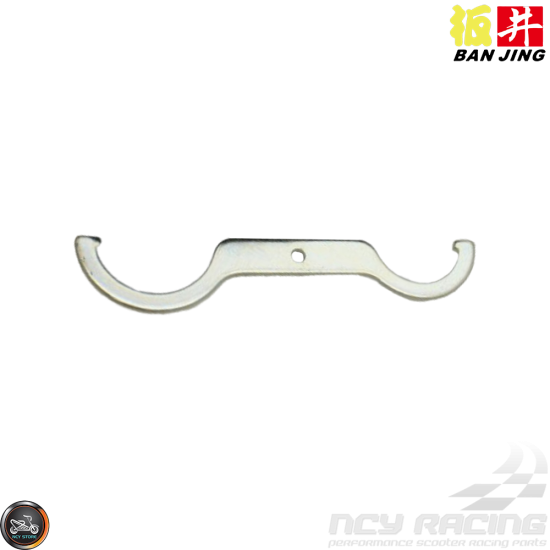 Description: Ban Jing Adjustable Low-Down Shock in a black anodized finish for the Honda Ruckus. Includes a spanner wrench. These shocks can also be used on Honda Dio/Elite, Genuine Buddy, and GY6 139QMB scooters although the shackle may need to be reversed. Drop your scooter an extra 1.5in with this shock.
NOTE: There may be clearance issues on the Ruckus frame if this shock is not used with a shock arm extension, please see the Specifications. Also, if you using a stock airbox, minor fitment modifications may be needed depending on model year Honda Ruckus.

Specifications:
Includes the following Rear shock and Spanner wrench.

• 1x Low-Down Shock Adjustable Overall L: 250mm (9.75")
• Distance (eye-to-eye): 230mm (9")
• Top-Eye Hole ID: 10mm / H: 45mm
• Bottom-Eye Hole ID: 8mm
• Thread Size: M8x1.25mm
• 1x Spring W: 60mm
• Color: Gloss Black
• Made in Taiwan
• Fit Dio/Elite
• Fit QMB 49/50cc
• Fit Ruckus

Supported Models: GY6 50cc 139QMB, Genuine Buddy, Honda Dio/Elite, Honda Ruckus 50 (NPS50), and virtually any other scooter with these measurements.
-----
Item Weight & Product Dimensions:
• 2.2 pounds | 9.75" (L) x 2.362" (W) x 2.362" (H)

Ban Jing Shock 230mm Adjustable Low-Down Black (DIO, QMB, Ruckus)
Stock:

40

Reward Points:

4

Part #:

169-486
Ban Jing
Ex Tax: $124.00
Price in reward points: 124
Tags:
ban jing shock adjustable low-down black ruckus universal
,
ban jing adjustable low-down shock black ruckus
,
ban jing adjustable low-down nitrogen shock absorber
,
ban jing low-down nitrogen shocks
,
ban jing low-down shocks
,
ban jing shocks
,
shock
,
ruckus low-down nitrogen shocks
,
ruckus low-down shocks
,
ruckus shock
,
scooter low-down shocks
,
scooter shocks
,
scooter low-down suspension shock
,
scooter low-down shock
,
ban jing shock adjustable low-down black ruckus nps50