G- Final Drive Gear 52 (139QMB longcase)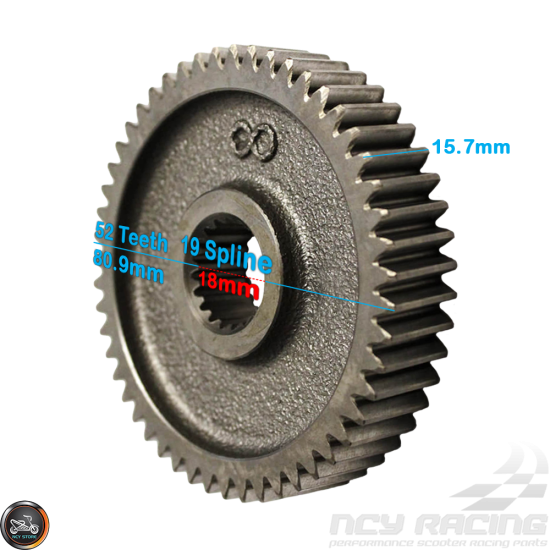 Description: Final Drive Gear 52 Teeth direct stock replacement for 139QMB 49/50cc 4-stroke longcase engines. The final drive ratio is the last bit of gearing between your transmission and the driven wheels. In general, a lower final drive ratio will lead to less torque at the wheels but higher top speed. Meanwhile, a higher ratio will result in the opposite, i.e. more torque at the wheels but lower top speed.
NOTE: Not included, must reuse stock counter shaft gear.

Specifications:

Include the following Final drive gear.
• 1x Rear Final Drive Gear Teeth: 52 / Inner Spline: 19
• OD: 80.9mm / ID: 18mm / W: 15.7mm
• Made in Taiwan
• Fit QMB 49/50cc (longcase)

Supported Models: GY6 50; 139QMB 49/50cc engines, Genuine Buddy 50, Genuine RoughHouse 50, Kymco Filly 50, QLink, SYM 50, TaoTao 50, and virtually any scooter engine with these measurements.
-----
Item Weight & Product Dimensions:
• 0.7 pound | 3.18" (OD) x 0.708" (W) x 0.618" (H)
G- Final Drive Gear 52 (139QMB longcase)
Stock:

39

Part #:

151-272-52T

G
Ex Tax: $12.95
Price in reward points: 13