G- Nut M12 Smooth Set (QMB, GY6, Universal)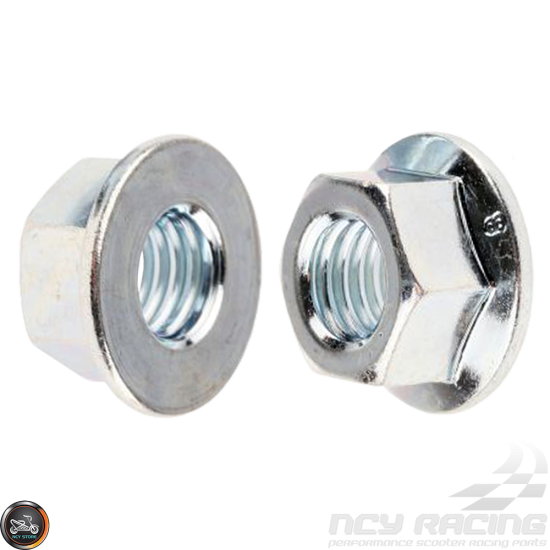 Description:
Nut M12x1.25 with the smooth base used to hold front wheel axle, flywheel, variator, and/or clutch bell on a GY6 4-stroke 125/150cc+ engine. May also be used in other applications 139QMB 49/50cc. Sold in pairs.
NOTE: This nut will work on variator side 139QMB 49/50cc. For 139QMB flywheel and clutch bell, use nut size M10x1.25mm (Part# 100-13).
Specifications:
Include the following M12 nut set.

• 2x Stainless Steel Nuts ID: M12x11.84mm / Thread: 1.25mm / OD: 17mm
• Smooth Base Flange ID: 12mm / OD: 24.9mm
• Material: Stainless Steel
• Fit Washer: M12 / Socket: 17mm
• Fit Front Axle: 12mm
• Fit Clutch Shaft: 12mm
• Fit Variator Shaft: 12mm
• Fit Flywheel Shaft: 12mm
• Fit GY6 125/150cc+
• Fit QMB 49/50cc+

Supported Models: Ban Jing CVT KIT (Part #169-500); GY6 139QMB 49cc-50cc 4-stroke, 50QMF 90cc-100cc, 152QMI 125cc, 157QMJ 150cc, 161QMK 170cc, 161QML 200cc, Chinese Scooter, ATV, Genuine Buddy, Kymco, Polaris RZR 170, Ruckus, TaoTao, Vento, and virtually any GY6-based scooters with these measurements.

-----
Item Weight & Package Dimensions:
• 0.06875 Pounds | 5.315" (OD) x 3.145" (ID) x 1" (H)
G- Nut M12 Smooth Set (QMB, GY6, Universal)
Stock:

36

Part #:

1200-4003

G
Ex Tax: $2.95
Price in reward points: 2
Tags:
m12 front axle nut
,
m12 variator nut
,
m12 clutch bell nut
,
m12 clutch nut
,
m12 flywheel nut
,
m12 front axle nut
,
m12 variator nut
,
flywheel nut
,
variator nut
,
clutch bell nut
,
clutch nut
,
gy6 flywheel nut
,
g-variator-smooth-nut-12x1.25mm-qmb-gy6-universal
,
g-variator-clutch-bell-nut-m12x1.25-smooth-gy6-universal
,
g-variator-nut-M12x1.25-qmb-gy6-universal
,
m12x1.25
,
m12
,
m12 variator nut
,
m12 variator nut
,
gy6 variator nut
,
gy6 clutch bell nut
,
nut
,
variator nut