G- Starter Clutch Assembly (GY6)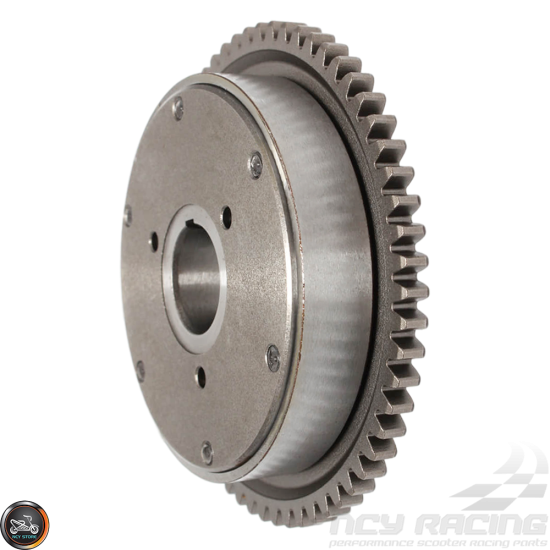 Description: Starter Clutch Assembly for GY6 125/150cc 4-stroke Chinese Scooter, ATV, Ruckus, Vento, and 150cc GY6B 4-stroke ZNEN engines commonly found in Lance Phoenix, Flyscooters Cadenza, ZNEN ZN150T-18, Xingyue ITA-150, Motorino Cassini, CMS Prodigy, BMS Pathfinder, and much more.

Specifications:
Includes the following Starter clutch, Needle bearings, and Sprocket.

• 1x Sprocket Gear Teeth: 60 / OD: 107.32mm / Hole D: 10mm
• 1x Starter Clutch ID: 21.5mm / Keyhole ID: 23.4mm / OD: 79mm
• 3x Rollers / Needle Bearings
• Overall Height: 20.7mm
• Fit Starter Clutch Nut: M22 / Washer: M22 / Castle Socket: 28.7<37.6mm
• Fit 54mm Stud Spacing (A-Block)
• Fit 57mm Stud Spacing (B-Block)
• Fit Crankshaft Thread: M22
• Fit Woodruff Keys
• Fit GY6 125/150cc+

Supported Models: GY6 152QMI 125cc, 157QMJ 150cc, 161QMK 170cc, 161QML 200cc, Chinese Scooter, ATV, Genuine Buddy, Kymco, Ruckus, TaoTao, Vento, and various unlisted makes/models.
-----

Item Weight & Product Dimensions:
• 1.556 pounds | 4.225" (OD) x 0.846" (ID) x 0.807" (H)

G- Starter Clutch Assembly (GY6)
Stock:

39

Reward Points:

1

Part #:

164-15

G
Ex Tax: $29.95
Price in reward points: 30