G- Stator Fan Bolt M6x25mm Set (QMB, GY6)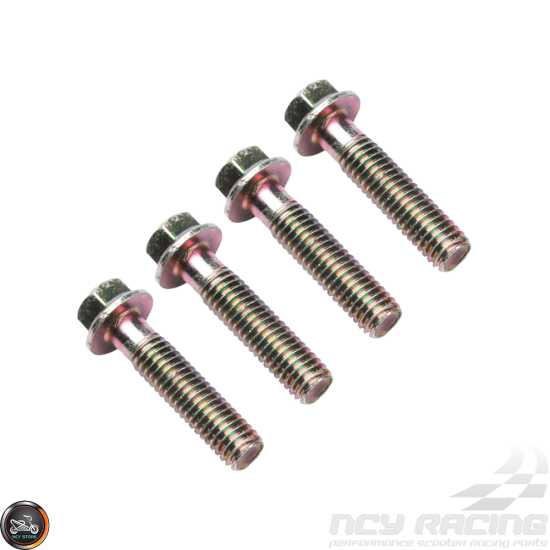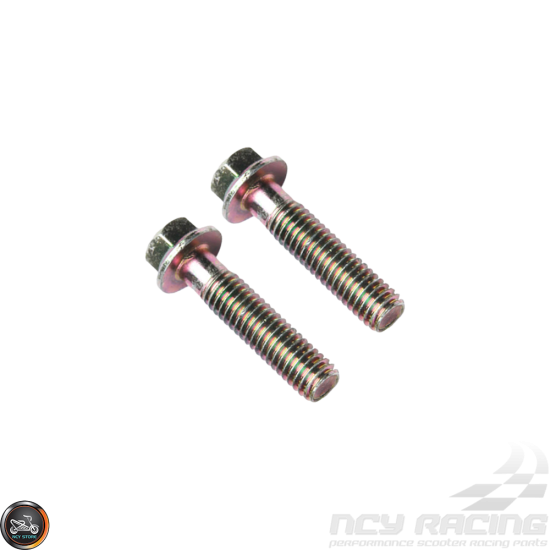 Description: Stator Fan Bolt M6x25mm Set used in various applications in GY6 125/150cc 4-stroke QMI152/157 QMJ152/157 engines and 150cc GY6B 4-stroke ZNEN engines including mounting the kick start lever, mounting the stator, and mounting the fan cover. May also be used in other applications.
Specifications:
Include the following Hexagon fan bolts.
• Stainless Steel Bolt L: 25<27.54mm / Thread: M6x1mm / Hex Head: 8mm
• Fit Fan: 110mm, 120mm / Bolts: M6 / Washers: M6 / Shroud: QMB, GY6 / Shroud: Seal / Screws: M5 / Socket: 8mm
• Fit Flywheel Shaft Nut: M10 / Washer: M10 / Magnet: 8 / Socket: 14mm (Fit 139QMB ONLY)
• Fit Flywheel/Variator Shaft Nuts: M12 / Washers: M12 / Magnet: 8 / Socket: 17mm, 27mm (Fit GY6 ONLY)
• Fit GY6 125/150cc+
• Fit QMB 49/50cc+
Supported Models: GY6 139QMB 49cc-50cc 4-stroke, 50QMF 90cc-100cc, 152QMI 125cc, 157QMJ 150cc, 161QMK 170cc, 161QML 200cc, Chinese Scooter, ATV, Genuine Buddy, Kymco, Polaris RZR 170, Ruckus, Znen, Vento, and virtually any other GY6-based engine with these measurements.
-----
Item Weight & Product Dimensions:
• 0.03 pounds | 0.984" (L) x 0.236" (ID) x 0.315" (OD)

G- Stator Fan Bolt M6x25mm Set (QMB, GY6)
Stock:

28

Part #:

1100-1088

G
Ex Tax: $2.95
Price in reward points: 3
Tags:
stator fan bolts
,
stator fan screws
,
8mm bolts
,
8mm screws
,
6mm bolts
,
6mm screws
,
stator fan bolts m6x25mm set qmb gy6
,
gy6 stator fan bolts 6mm set qmb gy6
,
gy6 stator fan bolts 6mm four
,
gy6 stator fan bolts 6mm set
,
gy6 6mm stator fan bolts
,
gy6 fan bolts
,
gy6 6mm set
,
gy6 6mm stator fan bolts
,
gy6 fan bolts
,
gy6 6mm set
,
gy6 6mm bolts