Naraku Drive Face 114mm HS-CNC V.2 (139QMB)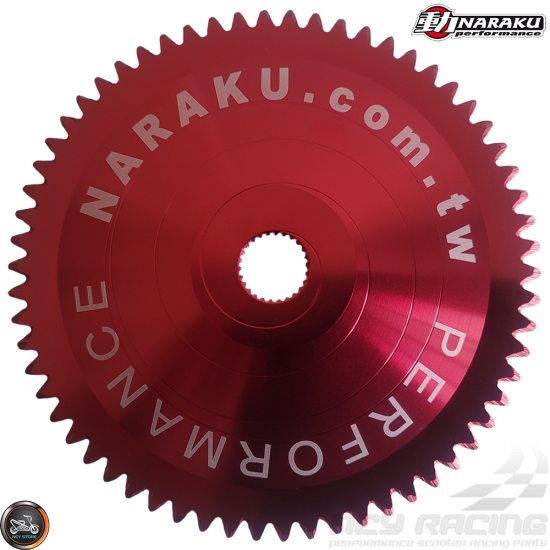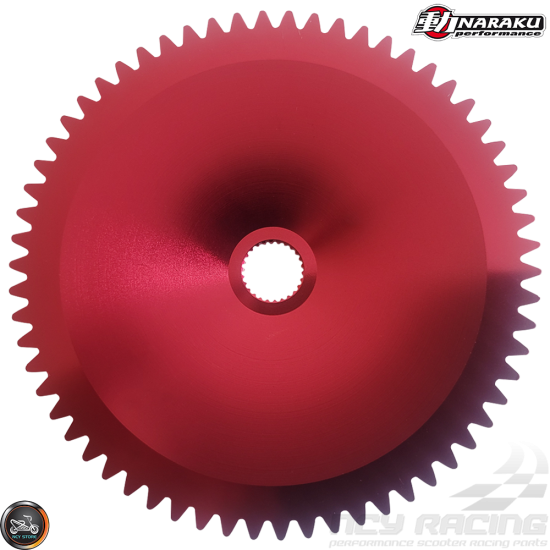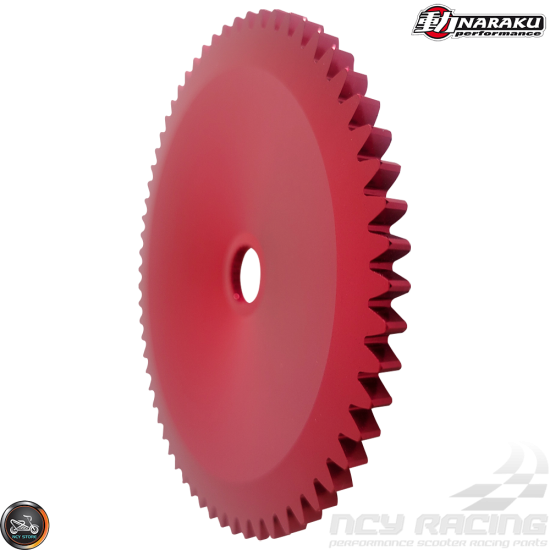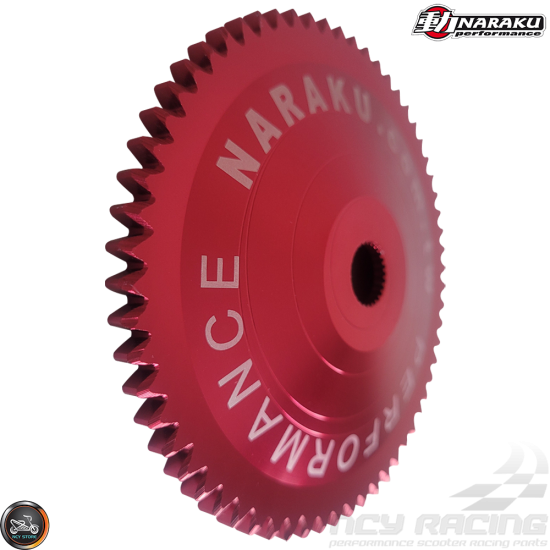 Description: Naraku Drive Face 114mm HS-CNC V.2 for 139QMB 49cc-50cc scooter engines. V.2 is the latest version of the CNC-machined drive face pulley from Naraku. This enhanced version now allows you to mount the original variator fan overlay and kickstart star him (See Fig. 3), the edge angle was revised again and combines a little more top speed with sufficient power. The CNC-machined running surface of the disc allows for a clean, low-vibration belt operation. Unlike CNC machined drive face pulley for other types of engines, the HS-CNC has teeth that perfectly aligned with the electric starter bendix. This can be reused, saving tedious "clicking" waste and wear. The perfect aligned teeth do however make the Naraku Drive Face most performance-driven in addition to its flashy red-race color.
NOTE: The variator fan overlay and kick starter ratchet gear (see Fig. 4) are not included, sold separately. Recommend using a new belt with this kit. Belt and the belt drive-facing plates KEEP DRY. All, other areas apply moly-graphite grease when assembling.
Installation: Make sure variator drive face is seated properly and not get its teeth chewed by the Bendix: 1. Slack the belt by opening the CVT clutch gives belt slack to the variator side. 2. Then install the variator drive face while lifting the slack belt further away from the center boss if done properly should not see any splines between variator drive face slop-side and boss flat-side. Should be flushed together. 3. Then install the existing variator fan, washer, and hand-tight nut. 4. Finally, apply blue Loctite, torque nut to 30-35ft-lbs. For reassurance please consult your manufacturer's variator torque specs.
Specifications:

Include the following Drive face.

• 1x Aluminum CNC Machined Anodized Drive Face OD: 113.7mm
• Splines: 26 / ID: 13mm<15mm
• Made in Taiwan
• Fit Starter: Bendix / Lock: Bracket
• Fit Variator Housing: 88mm or 89mm / Weights: 16x13mm / Slides: 3 / Top: 73.5mm / Boss: 20mm / Shims: 20mm
• Fit Variator Fan: Overlay / Ratchet: Gear / Shaft Nut: M12 / Washer: M12 / Socket: 17mm
• Fit Belt Size: 669, 729, 788-18-30
• Fit Crankshaft 41.4mm to 44mm
• Fit Dowel Pin Set (8x10mm)
• Fit QMB 49/50cc+

Supported Models: Naraku CVT Kit (Part# KIT.A.139QMB); 139QMB 49cc-50cc engines, Baja SC50, Boreem (BMS) 50, Filly 50, Kymco 50, Panterra 50, Qingqi 50, QLink 50, Roketa 50, SUNL 50, SYM 50, Tank 50, TaoTao 50, and virtually any other scooter engine with these measurements.
-----
Item Weight & Product Dimensions:
• 0.25 pounds | 4.476" (OD) x 0.512" (ID) x 0.5" (H)
Naraku Drive Face 114mm HS-CNC V.2 (139QMB)
Stock:

31

Reward Points:

2

Part #:

NK900.59
Naraku
Ex Tax: $53.50
Price in reward points: 54