NCY Compression Spring 2000 RPM (Vino, Zuma 125)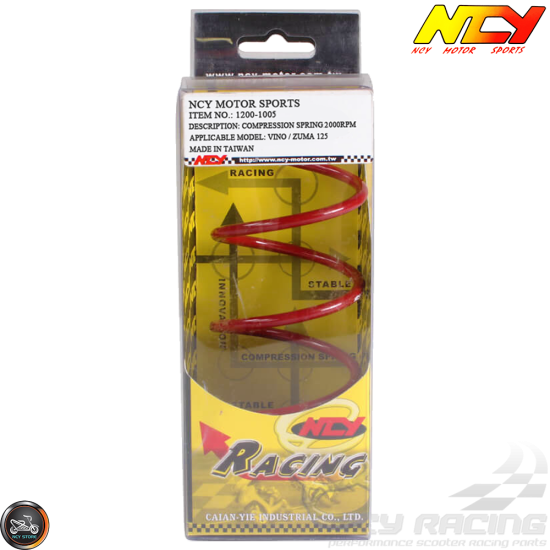 Description: Compression springs do a couple of things. First, they supply the pressure to engage the belt. They also determine the rate at which the CVT transmission changes from low to high gear. A 1000rpm spring will go into a higher gear sooner than a 2000rpm spring. This NCY 2000 rpm compression spring is specifically for the Yamaha Vino 125 & Zuma 125 / BW's 125.
NOTE: Before use, lubricate slider grooves, slider pins, ball bearing seat, and inner funnel area with heat-resistant moly-graphite grease.

Installation: 1. Slack the belt by opening the CVT clutch gives belt slack to the variator side. 2. Then install the variator drive face while lifting the slack belt further away from the center boss if done properly should not see any splines between variator drive face slop-side and boss flat-side. Should be flushed together. 3. Then install the existing variator fan, washer, and hand-tight nut. 4. Finally, apply blue Loctite, torque nut to 30-35ft-lbs. For reassurance please consult your manufacturer's variator torque specs.
Specifications:

Include the following Compression spring.

• 1x Spring Comp: 2,000 RPM / L: 116mm
• Spring ID: 54.5mm / OD: 58.2mm
• Wire Gauge: 5mm
• Made in Taiwan
• Fit Clutch: 115.84mm / Sheave: 41mm / Bearing Funnel: 42mm / Nut: M28 / Socket: 19mm, 46mm / Bell Spline: 16
• Fit Belt Size: 759-22-30 (Vino)
• Fit Belt Size: 790.5-21.9, 810-22-28 (Zuma)
• Fit Clutch Springs: 1k, 1.5k, 2k rpm
• Fit Compression Spring: 1k, 1.5k rpm
• Fit BWS 125
• Fit Vino 125
• Fit Zuma 125

Supported Models: NCY CVT KIT (Part# 1200-1047); Benelli Velvet 125, Italjet Millennium 125, Malaguti Madison 125, Yamaha BWS 125, Yamaha Cygnus 125, Yamaha Vino 125, Yamaha Zuma 125
-----
Item Weight & Product Dimensions:
• 0.49 Pounds | 4.645" (L) x 2.530" (OD) x 2.141" (ID)

NCY Compression Spring 2000 RPM (Vino, Zuma 125)
Stock:

35

Part #:

1200-1005

NCY
Ex Tax: $16.95
Price in reward points: 17