NCY CVT KIT Gen 4 (Honda PCX) - CUSTOMIZABLE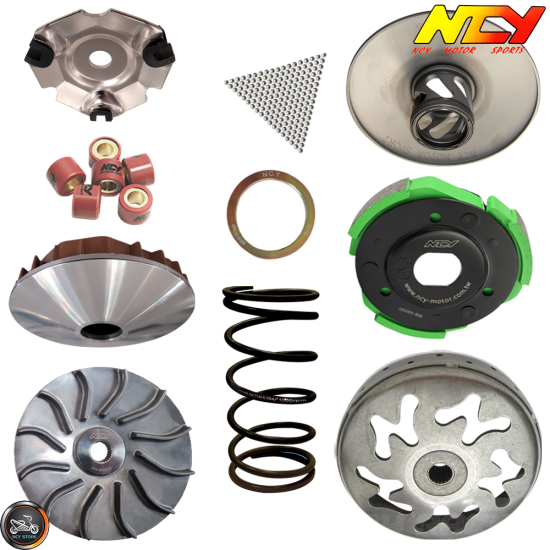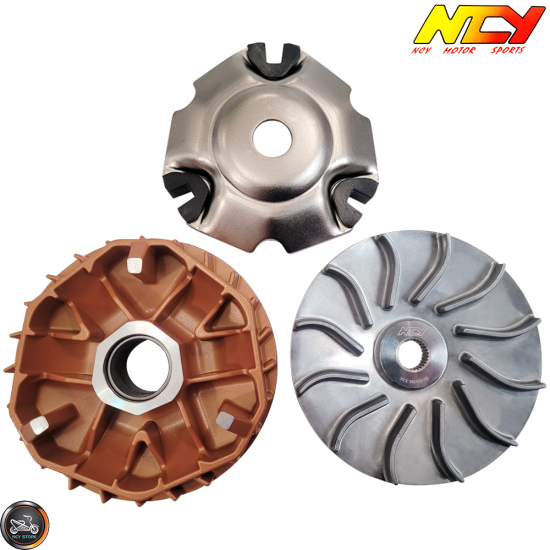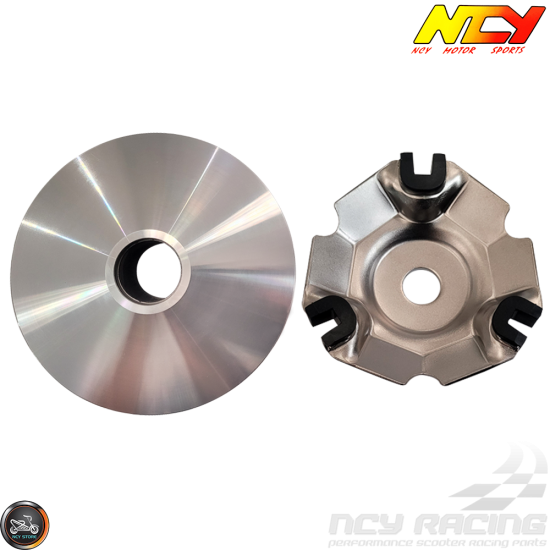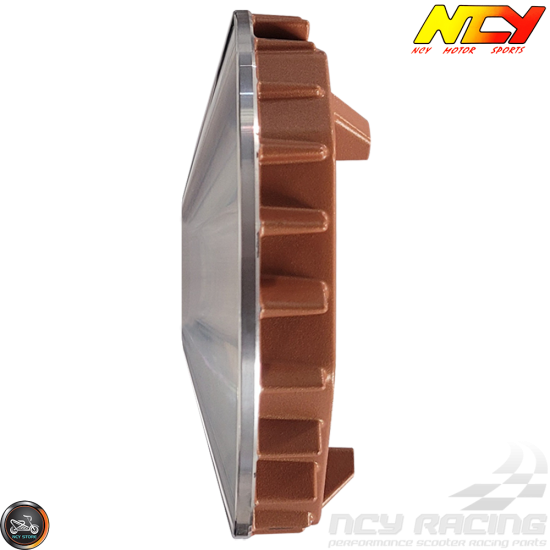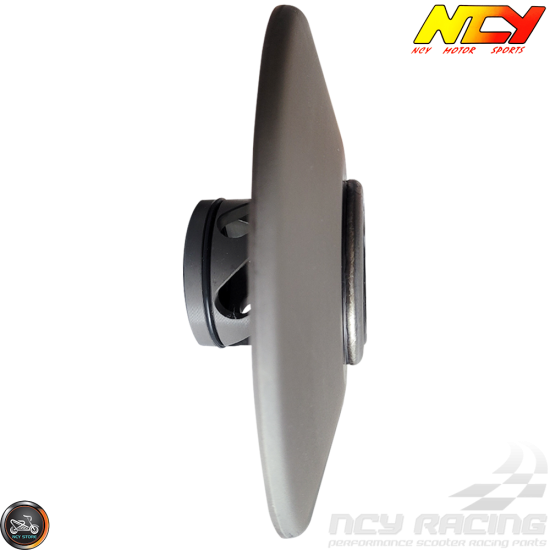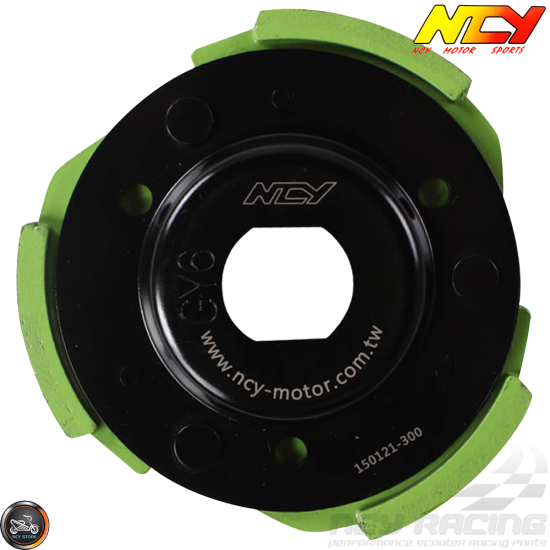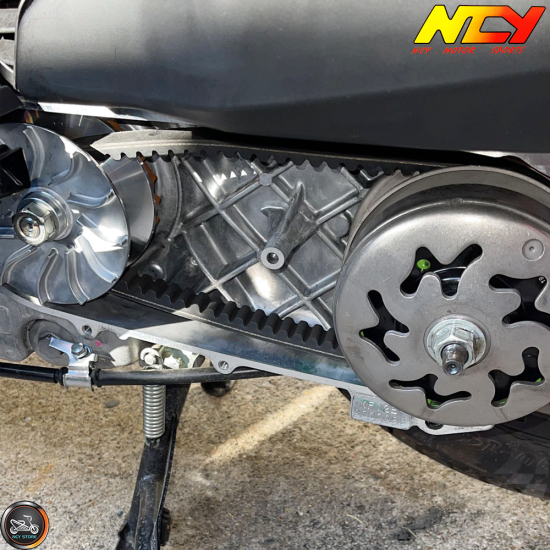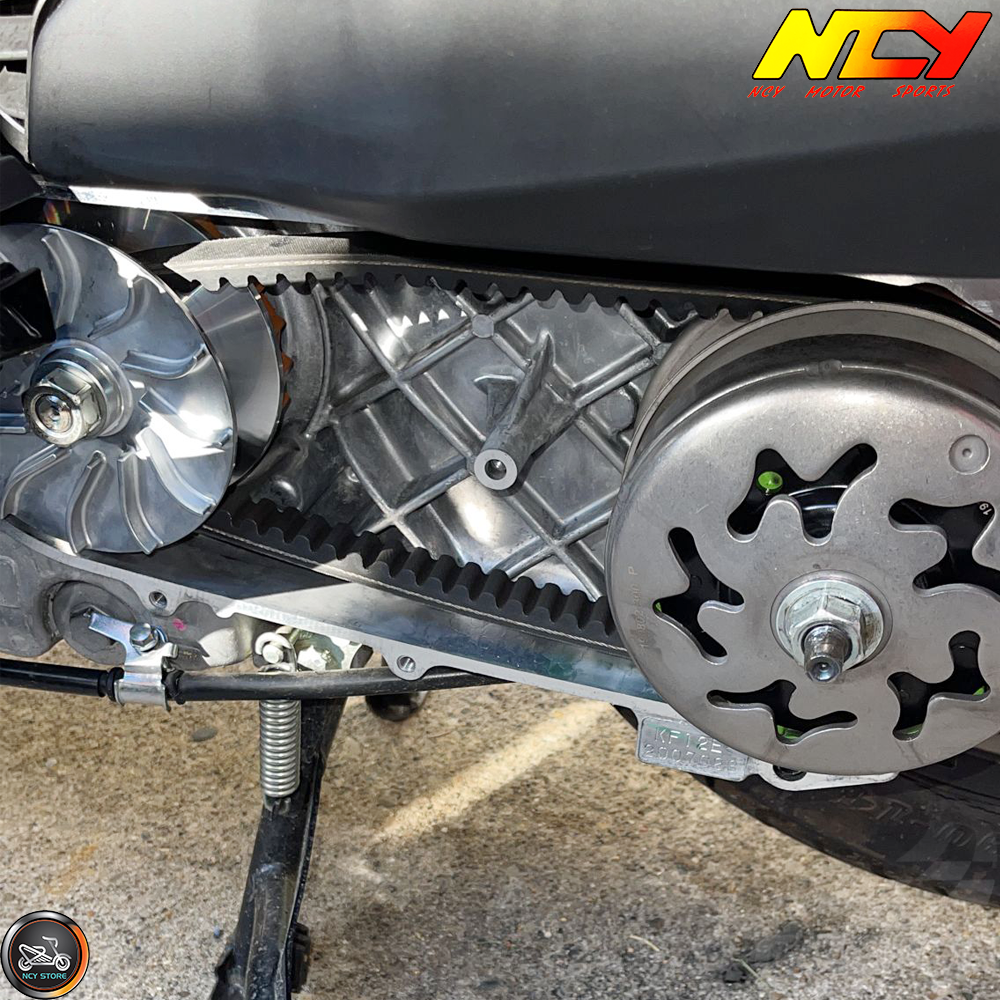 Honda PCX 150 2013 NCY CVT KIT Gen4 bolt-on courtesy photo by Jonathan Carrillo
Description: NCY CVT Kit Honda PCX aka Super CVT transmission kit for Honda PCX engines is one of the best dollar-for-dollar bolt-on to improve your PCX scooter transmission performance! Quicker acceleration, and makes your PCX CVT the smoothest running transmission in town! From rapid downshifting to slow cruising, this thing is smooth. Ultralight balanced components, oversized wear pads, and state-of-the-art polytetrafluoroethylene (PTFE) coatings ensure superior performance and long service life.
NOTE: THIS KIT IS NOT FOR GY6 (See Part# 1200-1252). Must re-use stock variator boss, washers, rear pulley plate shaft, slider pins, slider seat funnel cover, clutch nut, and nuts. Recommend using a new belt with this kit. Belt and the belt drive-facing plates KEEP DRY. All, other areas apply moly-graphite grease when assembling. Example, lubricate slider grooves, slider pins, ball bearing seat, and inner funnel area with heat-resistant moly-graphite grease. You can upgrade option for bearing seat funnel cover, (Part# 1200-1030-F), to avoid having to modify the existing Honda PCX OEM slider seat funnel cover mention here:
Temperature Modification Requirements: You'll need to heat the OEM slider seat funnel cover to expand it in order to fit immediately into the freezing assembled NCY Secondary Slider w/OEM rear pulley plate shaft of your Honda PCX. Users assume full responsibility and risk doing so without the purchase of a bearing seat funnel cover, Part# 1200-1030-F. See video here.
Installation: 1. Slack the belt by opening the CVT clutch gives belt slack to the variator side. 2. Then install the variator drive face while lifting the slack belt further away from the center boss if done properly should not see any splines between variator drive face slop-side and boss flat-side. Should be flushed together. 3. Then install the existing variator fan, washer, and hand-tight nut. 4. Finally, apply blue Loctite, torque nut to 30-35ft-lbs. For reassurance please consult your manufacturer's variator torque specs.
Specifications:

NCY CVT KIT Gen 4 (Honda PCX) – SIX CUSTOMIZABLES.
Includes the following Drive face, Roller weights, Variator, Secondary slider, Springs, Spring bearing seat, Clutch, and Clutch bell.

1. Include NCY Drive Face Fan, Drive Face Fan.
• 1x Aluminum Drive Face Fan Weight Weight: 133gm / OD: 117mm
• Splines: 28 / ID: 14.1mm<15mm / H: 22.4mm
2. Includes NCY Variator 117mm Coated Gold, Roller weights, Variator housing, Variator slides, and Variator top.
• 1x Alumin-Alloy Housing Teflon Coated ID: 24mm / OD: 116.84mm / H: 37.74mm
• 1x Metal Top ID: 15mm / OD: 90mm / H: 20.74mm
• 6x Variator Weights: 20x15mm 12<18gm (Make Selection)
• 3x Plastic Slides (black) ID: 7<8.4mm / L: 22mm / W: 15mm / H: 12.3mm
3. Includes NCY Secondary Slider, slider (torque driver), and O-rings
• 1x Secondary Slider Plate OD: 141.84mm / Funnel ID: 34mm / OD: 43mm / H: 47mm
• 2x Rubber O-rings (pre-installed)
4. Includes Secondary Bearing Spring Seat, Bearings, and Bearing seat. (Make Selection)
• 1x Bearing Seat ID: 45.4mm / OD: 57.5mm / H: 3mm / Grove: 1.75mm
• 1x Bearings Pak
5. Include NCY Compression Spring, Compression Spring.
• 1x Spring Comp: 1k<2k RPM / L: 147.9<154mm (Make Selection)
• Spring ID: 48.5mm / OD: 58mm
6. Includes Clutch Performance, Clutch housing, Clutch springs, and Clutch weights.
• 1x Clutch ID: 24.3<28mm / OD: 121.8mm / H: 35.4<36.85mm
• 3x Clutch Spring: 1000<2000 RPM (Make Selection)
• 3x Clutch Weights
7. Include NCY Clutch Bell, Clutch bell. (Make Selection)
• 1x Iron Clutch Bell Weight: 680.39<793.79gm / ID: 125mm / OD: 137.34mm / H: 43mm
• Splines: 19 / ID: 13.5<15mm / OD: 20mm / H: 24.77mm
• Made in Taiwan
• Fit Variator Shaft Shims: 24mm / Nut: M14 / Washer: M14 / Socket: 22mm
• Fit Clutch Nuts: M12, M28 / Washer: M12 / Bearing Funnel: 43mm / Socket: 19mm, 39mm
• Fit Compression Spring: 1k, 1.5k, 2k rpm
• Fit Clutch Springs: 1k, 1.5k, 2k rpm
• Fit Belt Size: 816, 836-22-30
• Fit Dowel Pin Set (8x10mm)
• Fit PCX 125/150cc+
Supported Models: Polini CVT KIT (Part# 146-69); Honda PCX 125/150cc (2010 and newer). The manufactured part package(s) may list as "GY6" and/or "PCX 125" for a simplified reason for it fits various other models like PCX 150.
-----
Item Weight & Product Dimensions:
• 8 pounds | 16.5" (L) x 11.75" (W) x 2.687" (H)
NCY CVT KIT Gen 4 (Honda PCX) - CUSTOMIZABLE
Stock:

37

Reward Points:

12

Part #:

1200-1195

NCY
Ex Tax: $269.00
Price in reward points: 319