NCY Cylinder 47mm 72cc Big Bore Kit w/Cast Piston (139QMB)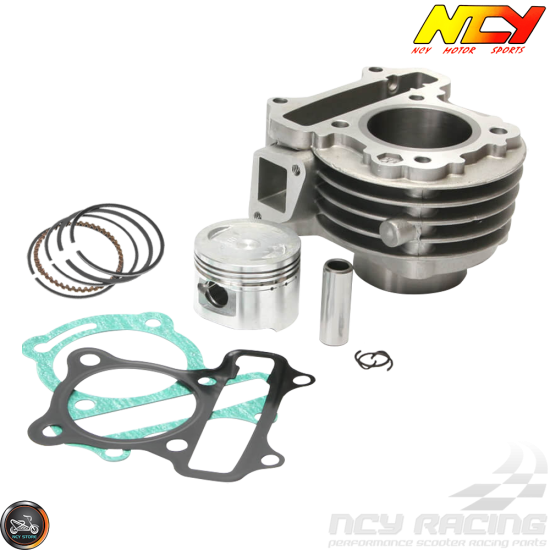 Description: NCY 47mm 72cc Cast-Iron Cylinder Kit with a Cast Aluminum Piston for 139QMB. It's recommended to get the complete 47mm big bore kit (Part# 1100-1439) in order to take full advantage of the bigger piston valve notch. However, you can use the original stock cylinder head without any problem.
When used in conjunction with a stock stroke of 41.4mm the engine displacement comes out to 72cc! When used with a 44mm stroker crank, engine displacement = 76.3cc!
NOTE: Remove your valve from your scooter's head and measure the full length of the valve stem. Some scooters like Znen(Wolf Brand, GMW, Bintelli, etc), Kymco 50cc 4T(Agility), some newer TaoTao, and other 50cc 4-stroke scooters may have valve stem length over 64mm. For these applications use Part#1100-1326 Rocker Arm assembly. Have a look at our Decompression Tube Kit which replaces your dipstick and allows excess crankcase pressure to be released.
Specifications:
Includes the following Cylinder, Piston + Rings, Gaskets (compression base gaskets, steel head gasket), Wrist pin, and Circlips.
• 1x Cast-Alumin Piston: 47mm
• 5x Piston Rings: 47mm
• 1x Wrist Pin w/G-clips: 38x13x9mm
• 1x Cast-Iron Cylinder: 47mm
• Outer Sleeve Diameter: 49.5mm
• Overall Height (w/sleeve): 70.44mm
• Cylinder Height (w/o sleeve): 53mm
• Made in Taiwan
• Fit Intake Studs: M6 / Nuts: M6 / Socket: 10mm
• Fit Exhaust Studs: M6 / Nuts: M6 / Socket: 10mm
• Fit Rocker Arm Assembly: 64mm or 69mm / Feeler Gauge: .004in / .005in / Socket: 9mm
• Fit Cylinder Studs: 168mm 176mm / Nuts: M7 / Washers: M7 / Side Bolts: M6 / Socket: 8mm-10mm
• Fit 50mm Stud Spacing /Diagonal 70.5mm
• Fit Cylinder Head 39mm to 50mm
• Fit Crankshaft 41.4mm to 44mm
• Fit Dowel Pin Set (8x14mm)
• Fit QMB 49/50cc+

Supported Models: 139QMB 49cc-50cc engines, Baja SC50, Boreem (BMS) 50, Filly 50, Kymco 50, Panterra 50, Qingqi 50, QLink 50, Roketa 50, SUNL 50, SYM 50, Tank 50, TaoTao 50, and virtually any other scooter engine with these measurements.
-----
Item Weight & Product Dimensions:
• 1.437 Pounds | 4.463" (L) x 4.156" (W) x 2.767" (H)

NCY Cylinder 47mm 72cc Big Bore Kit w/Cast Piston (139QMB)
Stock:

39

Reward Points:

5

Part #:

1100-1247

NCY
Ex Tax: $131.00
Price in reward points: 131
Tags:
ncy cylinder 47mm 72cc big bore kit cast piston 139qmb
,
ncy 47mm cylinder 72cc big bore kit cast piston 139qmb
,
ncy 47mm cylinder
,
ncy cylinder 47mm 72cc big bore kit aluminum piston 139qmb
,
ncy cylinder 47mm big bore kit aluminum piston
,
ncy 47mm wear-resisting valve cylinder
,
ncy big bore kit
,
ncy cylinder
,
gy6 big bore kit
,
gy6 cylinder
,
scooter cylinder
,
scooter big bore kit
,
ncy 47mm wear-resisting valve cylinder head
,
ncy big bore kit
,
ncy 47mm cylinder