NCY Brake Bleeder Valve Blue (QMB, GY6, Universal)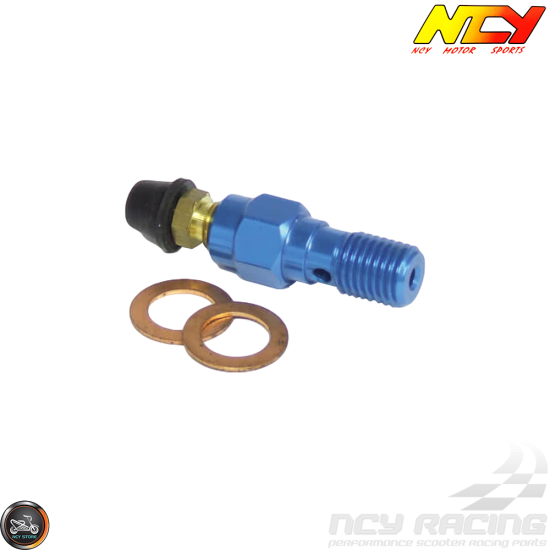 Description: NCY Brake Bleeder Valve Blue for 139QMB 49/50cc, GY6 125/150cc, and various unlisted makes/model scooter brake systems. Hydraulic banjo bolt with bleeder valve. Supplied with two sealing washers. When doing a disk conversion in tight quarters, these bolts allow for easy access to bleed your system.
Pair that with our superior quality Braided Brake Line (Part# 1100-1238) for an even better feel under hard braking.
Think about upgrading your whole brake system with these NCY Disc Brake Calipers in gold (Part# 1000-1260) or red (Part# 1000-1261).

Specifications:
Includes the following Bleeder casing, Bleeder valve, Rubber cap, and Crush washers.
• 1x Aluminum Bleeder Valve Casing (blue) L: 32.5mm / Hex OD: M10x1.25mm
• 1x Stainless Steel Bleeder Valve (gold) L: 25.3mm / Hex OD: M8x1.25mm
• 1x Rubberized Bleeder Valve Cap OD: 12mm / ID: 5.37mm / H: 8.3mm
• 2x Copper Crush Washers OD: 15.78 / ID: 10.37mm / Thick: 0.83mm
• Made in Taiwan
• Fit GY6 125/150cc+
• Fit QMB 49/50c
Supported Models: GY6 40QMB 50cc 2-stroke, 139QMB 49cc-50cc 4-stroke, 50QMF 90cc-100cc, 152QMI 125cc, 157QMJ 150cc, 161QMK 170cc, 161QML 200cc, Chinese Scooter, Genuine Buddy, Kymco, Ruckus, Vento.
-----
Item Weight & Product Dimensions:
• 0.031 pounds | 1.91" (L) x 0.621" (W) x 0.621" (H)

NCY Brake Bleeder Valve Blue (QMB, GY6, Universal)
Stock:

27

Part #:

1600-0010

NCY
Ex Tax: $13.95
Price in reward points: 14