SSP-G Cylinder 63mm 180cc Big Bore Kit w/Cast Piston Fit 57mm (GY6)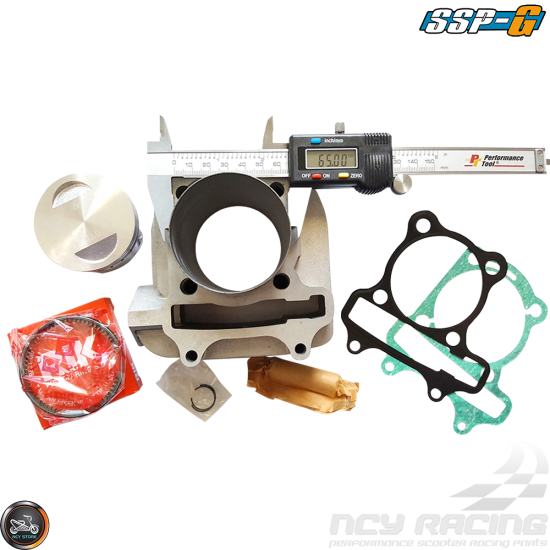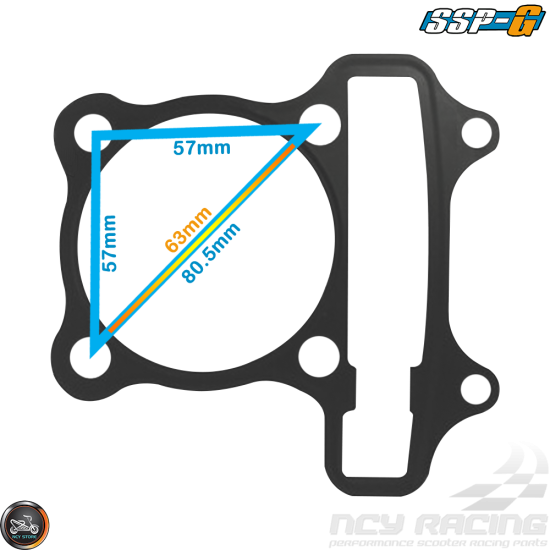 ETA 4 - 10 Days


Description: SSP-G Cast-Iron Cylinder 63mm 180cc with Cast Aluminum Piston for upgrade 125/150cc 4-stroke. The cylinder piston is 63mm. Require GY6 57mm Stud Spacing Crankcase B-Block. Also, a good replacement cylinder kit for the Polaris RZR 170.
NOTE: Please, measure with a caliper GY6 crankcase bore (opening) for 65mm cylinder outer diameter sleeve need a minimum 65.1mm bore clearance or boring and machining are required.

Specifications:
Includes the following Cylinder, Piston + Rings, Gaskets (compression base gaskets, steelhead gasket), Wrist pin, Circlips, and SSP-G Sticker.

• 1x Cast-Alumin Piston: 63mm
• 5x Piston Rings: 63mm
• 1x Wrist Pin w/G-clips: 44.85x15mm
• 1x Fiber Base Gasket: 63mm
• 1x Steel Head Gasket: 63mm
• 1x Cast-Iron Cylinder: 63mm
• Outer Skirt Diameter: 65mm
• Cylinder Height (w/o Skirt): 69mm
• Overall Height (w/Skirt): 93mm
• Made in Taiwan
• Fit Intake Studs: M6 / Nuts: M6 / Socket: 10mm
• Fit Exhaust Studs: M8 / Nuts: M8 / Socket: 12mm
• Fit Cylinder Studs: 196mm 204mm / Nuts: M8 / Washers: M8 / Side Bolts: M6 / Socket: 8mm-12mm
• Fit 57mm Stud Spacing (B-Block)
• Fit 57mm Camshaft Holder
• Fit 57mm Rocker Arm 2V Assembly
• Fit Crankshaft 57.8mm +3 2V
• Fit Dowel Pin Set (10x14mm)
• Fit Cam Chain 46 (92) links
• Fit Chain Guide (standard)
• Fit 57mm Cylinder Head 59mm to 63mm 2V
• Fit GY6 125/150cc+
• Optional: cut plastic fan shroud for best fitment

Supported Models: SSP-G Crankcase (Part# 169-514); GY6 161QMK 161QML Chinese Scooter, ATV, Genuine Buddy, Kymco, Polaris RZR 170, Ruckus, Vento
-----
Item Weight & Product Dimensions:
• 2.756 pounds | 5.452" (L) x 4.980" (W) x 3.661" (H)

SSP-G Cylinder 63mm 180cc Big Bore Kit w/Cast Piston Fit 57mm (GY6)
Stock:

ETA 4 - 10 Days

Reward Points:

5

Part #:

169-172
SSP-G
Ex Tax: $146.90
Price in reward points: 147
Tags:
ssp-g cylinder 63mm 180cc big bore kit cast piston fit 57mm gy6
,
ssp-g cylinder 63mm 180cc big bore kit cast piston fit 57mm gy6
,
180cc cylinder
,
ssp-g cylinder 63mm 180cc big bore kit cast piston gy6
,
ssp-g 180cc big bore cylinder power kit
,
ssp-g 180cc cylinder
,
cylinder big bore kit
,
gy6 180cc cylinder big bore power kit
,
gy6 180cc cylinder
,
180cc big bore kit
,
scooter cylinder big bore kit
,
bbk cylinder