Stage6 Choke Lever Cable 150cm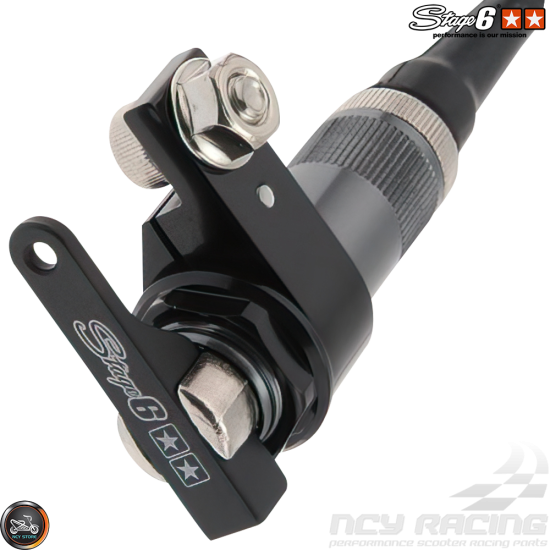 Description: Stage6 Choke Lever Cable 150cm. Stage6 universal choke. No matter whether you want to convert your electric choke or simply choose a stylish alternative to the original manual choke - this CNC milled Stage6 product is what you need, offering high quality as well as cool looks. There are 2 possible ways of mounting: either you use the adjustable retaining clamp, or you simply insert it into a small hole in the fairing and secure it with a nut. Also available in 50cm.
NOTE: Choke cable will come dry (non-lube). Recommend use lubricating grease, oil, or WD-40 before use. This also helps ease cable friction wear and tear in throttle cable's sleeves, use lubricating tool help grease where applicable.
Specifications:
Includes the following manual choke Actuator, Lever knob, Plunger, Spring, and Cable.

• 1x Manuel Choke Actuator w/Knob Lever L: mm / OD: / Mount OD: mm
• 1x Manuel Choke Plunger L: mm / OD: mm
• 1x Manuel Choke Spring L: mm / OD: mm
• Overall L: " (mm)
• 1x PWK Choke Cable L: 59.05" (1499.87mm) / Sleeve L: " (mm)
• Made in Italy
• Fit GY6 125/150cc+
• Fit QMB 49/50cc+

Supported Models: Honda Dio AF16 AF18E 50; Elite S/SE/SR 1994-2001, Daelim Cordi 50, Kymco Fever/ZX50, SYM DD50, 40QMB 50cc 2-stroke, 40QMB 50cc 2-stroke, Eton, Peugeot, PGO, SYM, TGB,139QMB 49cc-50cc 4-stroke, 50QMF 90cc-100cc, 152QMI 125cc, 157QMJ 150cc, 161QMK 170cc, 161QML 200cc, Chinese Scooter, ATV, Genuine Buddy, Kymco, Polaris RZR 170, Ruckus, TaoTao, Yamaha Cygnus, Vento, and virtually any scooter engine with PWK Carburetor measurements.

-----
Item Weight & Package Dimensions:
• 0.419 pounds | 12.5" (L) x 8.75" (W) x 0.75" (H)

Stage6 Choke Lever Cable 150cm
Stock:

40

Reward Points:

1

Part #:

S6-3199900

Stage6
Ex Tax: $29.55
Price in reward points: 30