Taida Big Bore Combo 67mm 232cc LCC 4V w/Forged Piston Fit 57mm (GY6)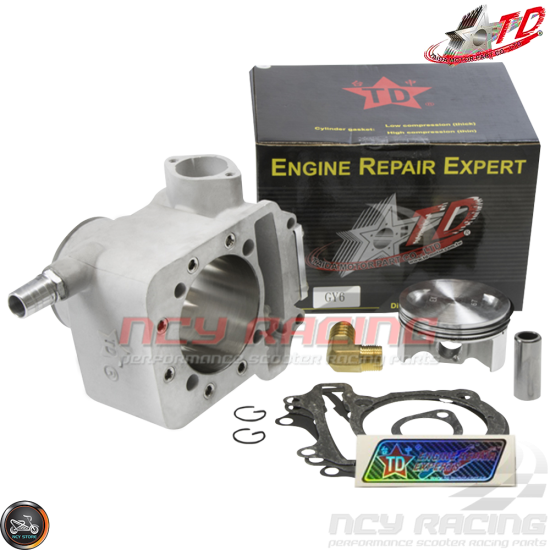 ETA 45 - 60 Days
Description: High-Quality Liquid Cooled Taida Ceramic Cylinder 67mm 232cc with 4-Valves Forged Piston offers better durability and reduced friction for 57mm B-Block GY6 engines. The ceramic cylinder coating offers better durability with more heat dissipation and can stand higher temperatures. The cylinder bore is 67mm. Taida Big Bore Combo 67mm 232cc Liquid-Cooled Ceramic 4V w/Forged Piston Fit 57mm including the following parts Taida 67mm (232cc) liquid-cooled ceramic cylinder kit with forged piston, Taida oversize 2V head 30.5/26.5, Taida 4V Performance camshaft, Taida 57mm rocker arm set, and Taida 8200 Crankshaft with stud and chain (66mm stroke). Taida Big Bore Combo 67mm 232cc 4V is suitable for liquid-cooled 4 stroke 125-150cc Kymco engines (scooters), and most Chinese imported vehicles 125/150cc (scooters, quads, and buggies).
NOTE: Boring and machining may require unless used Taida Crankcase (Part# GY6-KS-S or # GY6-KS-L).

Specifications:
100% Taida Products – NO SUBSTITUTE.
1. Includes Taida Liquid Cooled Ceramic Cylinder 67mm 4V, Piston + Rings, Gaskets (chain tensioner gasket, Hi and Low compression base gaskets, steel head gasket), Wrist pin, Circlips, Coolant fittings, and Taida Sticker.
• 67mm Forged-Alumin Piston (4-Valves)
• 67mm Piston Rings
• 67mm Ceramic Cylinder (liquid-cooled)
• 69.5mm Outer Sleeve Diameter
• 75.2mm Cylinder Height (no spacer needed)
2. Includes Taida Cylinder Head 67mm 4V NON-EGR, Valves Assembly, Gaskets (manifold spacer +gasket, steel exhaust gasket), intake\exhaust studs, nuts, and Taida Sticker.
• 1x Cylinder Head Stud Space: 57mm / H: 66.6mm / Intake Port: 27.6mm / Exhaust Port: 26.5mm
• 4 Valves: 2x 23mm Intake / 2x 22mm Exhaust / Stem: 5mm / (w/intake valves) H: mm
• 1x Plastic Intake Manifold Spacer L: 58mm / ID: 28mm / W: 38mm / H: 5.15mm
• 1x Paper Intake Manifold Gasket L: 58mm / ID: 28mm / W: 38mm / H: 1mm
• Intake Manifold Gasket Bolt-to-Bolt Space: 45mm
• 2x Intake Studs: M6x62mm
• 1x Exhaust Gasket L: 68mm / ID: 27mm / W: 45.15mm / H: 1.9mm
• Exhaust Gasket Bolt-to-Bolt Space: 45<51mm
• 2x Exhaust Studs: M8x35mm
• 2x Exhaust Nuts: M8x12mm
3. Includes Taida Performance Camshaft 4V 6.5/6.3 High Rev, and Taida Sticker.
• 2x Intakes lift: 23.5mm - Lobe Greatest: 30mm
• 2x Exhausts lift: 23.5mm - Lobe Greatest: 29.8mm
• Sprocket Teeth: 34
4. Includes Taida Rocker Arm Assembly 4V, and Taida Sticker.
• 1x Camshaft Holder
• 1x Rocker Arm Split +Shaft (inlet)
• 1x Rocker Arm Split +Shaft (outlet)
• 4x Valve Adjusting M5x0.50 Tappets
• 4x Valve Adjusting M9x5 Nuts
5. Includes Taida Extended Crankshaft (66mm stroke) 4V, Woodruff keys, and Taida Sticker.
• Base Stroke: 57.8mm +8.2mm (8200-micron)
• Overall Stroke: 66mm (4-Valves)
• Overall Length: 285mm
• Piston Wrist Pin Slot I.D: 15mm
• Flywheel Shaft Thread: M12 x 16mm
• Flywheel Shaft Bearing: 56mm
• Variator Shaft Thread: M12 x 16mm
• Variator Shaft Splines: 19
• Variator Shaft Bearing: 56mm
6. Includes Taida Extended 48 (96) Links Cam Chain, and Taida Sticker.
• 1x Cam Chain 48 (96) links
• Made by Kymco
7. Includes Taida Cylinder Stud 218/225 4V, and Taida Sticker.
• 2x Studs (Rt Crankcase): 8mm x 218mm
• 2x Studs (Lt Crankcase): 8mm x 225mm
8. Includes Taida Cylinder Head Cover, Bolts, Gasket, Rubber seal, and Taida Sticker.
• 1x Taida Cylinder Valve Cover (EGR)
• 1x Cylinder Valve Rubber D-ring
• 4x Cylinder Valve Cover Bolts
• Made in Taiwan
• Fit Intake Studs: M6 / Nuts: M6 / Socket: 8mm
• Fit Exhaust Studs: M8 / Nuts: M8 / Socket: 10mm
• Fit Flywheel/Variator/Clutch Shaft Nuts: M12 / Washers: M12 / Socket: 17mm
• Fit Cylinder Stud Nuts: M8 / Washers: M8 / Socket: 12mm
• Fit 57mm Stud Spacing (B-Block)
• Fit Dowel Pin Set (8x14mm)
• Fit Dowel Pin Set (10x20mm)
• Fit Cam Chain Guide (A & C)
• Fit GY6 125/150cc+

Supported Models: Taida Crankcase (Part# GY6-KS-S / GY6-KS-L); GY6 161QMK 161QML Chinese Scooter, ATV, Kymco, Ruckus, Vento
-----
Item Weight & Package Dimensions:
• 4.5 pounds | 5.422" (L) x 5" (W) x 3.536" (H)
• 2.743 pounds | 6.950" (L) x 5.450" (W) x 4.900" (H)
• 0.625 pounds | 5.9" (L) x 3.9" (W) x 3.9" (H)
• 0.562 pounds | 4.428" (L) x 2.888" (W) x 1.05" (H)
• 0.45 pounds | 3" (L) x 3" (W) x 0.2" (H)
• 6.2 pounds | 11.5" (L) x 5.25" (W) x 4.75" (H)
• 0.7 pounds | 8.583" / 8.858" (L) x 0.315" (W) x 0.250" (H)
• 1 pounds | 6" (L) x 5" (W) x 2.1" (H)

Taida Big Bore Combo 67mm 232cc LCC 4V w/Forged Piston Fit 57mm (GY6)
Stock:

ETA 45 - 60 Days

Reward Points:

53

Part #:

GY6-090-4V57-232-LC-4V
Taida
Ex Tax: $1,333.00
Price in reward points: 1333
Tags:
taida big bore combo 67mm 232cc lcc 4v forged piston fit 57mm gy6
,
taida big bore kit combo
,
taida big bore kit
,
taida big bore kit
,
taida bbk
,
taida cylinder combo
,
taida cylinder kit
,
taida engine combo
,
taida engine kit
,
taida top-end combo
,
taida top-end kit
,
232cc big bore kit combo
,
232cc big bore combo
,
232cc big bore kit
,
232cc bbk
,
205cc bbk
,
232cc cylinder combo
,
232cc cylinder kit
,
232cc engine combo
,
232cc engine kit
,
232cc top-end combo
,
232cc top-end kit
,
gy6 cylinder kit
,
gy6 big bore combo
,
gy6 big bore kit combo
,
gy6 big bore kit
,
gy6 bbk
,
gy6 cylinder combo
,
gy6 engine combo
,
gy6 engine kit
,
gy6 top-end combo
,
gy6 top-end kit