Taida Crankcase 65mm Bore Rt-Side w/Oil Cooler Ports Fit 54mm (GY6)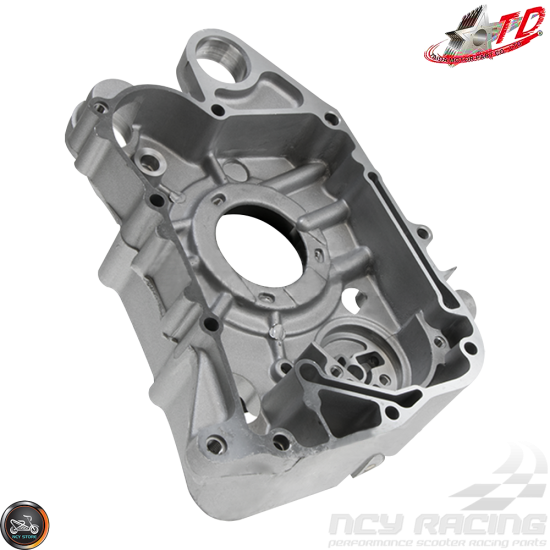 Description: Taida Crankcase 65mm Bore Right-side with Oil Cooler Ports for upgrading to a 180cc with optional oil cooler kit (see Part# GY6-050-NOKS oil cooler kit sold separately) or any GY6 54mm cylinder stud spacing such as Taida A-Block cases. Taida Crankcase right-side with oil cooler ports is pre-drilled direct hi-flow to oil pump cavity for easy attachment of any oil cooler assembly lines, banjo type fittings.
This Taida Crankcase 65mm bore opening right-side means there is no machining required if pair with a left-side 65mm bore crankcase. For most 180cc cylinder's outer sleeve aka outer skirt is normally 64.9mm that can easily slip into this Taida Crankcase 65.5mm bore opening. Just bolt on any GY6 180cc Fit 54mm big bore kit, best checkout Taida Cylinder 63mm BBK (sold separately).
NOTE: This is NOT a complete engine, right-side crankcase ONLY. Need to reuse donor parts from A-Block (54mm).

Specifications:

Include the following listed Right crankcase.
• 1x Crankcase 65mm Bore (right, w/oil portholes)
• Made in Taiwan
• Fit Crankcase (left, 65mm Bore)
• Fit Intake Studs: M6 / Nuts: M6 / Socket: 10mm
• Fit Exhaust Studs: M8 / Nuts: M8 / Socket: 12mm
• Fit Crankcase Bolts: M6 / Washers: M6 / Socket: 8mm
• Fit Cylinder Studs: 195mm 203mm / Nuts: M8 / Washers: M8 / Side Bolts: M6 / Socket: 8mm-12mm
• Fit Flywheel/Variator/Clutch Shaft Nuts: M12 / Washers: M12 / Socket: 17mm
• Fit 54mm Stud Spacing (A-Block shortcase)
• Fit 54mm Stud Spacing (A-Block longcase)
• Fit 54mm Rockarm Assembly
• Fit Crankshaft 57.8mm /+8.2mm
• Fit Dowel Pin Set (8x14mm)
• Fit Dowel Pin Set (10x14mm)
• Fit Cam Chain 46 (92) links
• Fit Chain Guide (standard)
• Fit 54mm Cylinder 57.4mm to 63mm
• Fit 54mm Cylinder Head 59mm to 63mm
• Fit GY6 125/150cc+
• Optional: cut plastic fan shroud for best fitment

Supported Models: GY6 Crankcase (Part# 1100-1418); GY6 152QMI 157QMJ Chinese Scooter, ATV, Genuine Buddy, Kymco, Vento
-----
Item Weight & Package Dimensions:
• 2.212 pounds | 14.5" (L) x 9.875" (W) x 8.125" (H)

Taida Crankcase 65mm Bore Rt-Side w/Oil Cooler Ports Fit 54mm (GY6)
Stock:

40

Reward Points:

7

Part #:

TD-CC01
Taida
Ex Tax: $183.99
Price in reward points: 184
Tags:
65mm crankcase bore
,
65mm bore crankcase
,
crankcase 65mm bore
,
crankcase 65mm bore
,
oil cooler kit
,
taida crankcase 65mm rt-side oil cooler kit gy6
,
taida-crankcase-65mm-rt-side-fit-54mm-gy6
,
taida crankcase 65mm rt-side power kit oil cooler gy6
,
right crankcase with oil cooler
,
oil cooler right crankcase
,
gy6 oil cooler crankcase
,
ssp-g crankcase 65mm 150cc 2V big bore power kit with oil cooler gy6 longcase
,
gy6 oil cooler crankcase
,
gy6 oil cooler
,
taida crankcase 150cc big bore power kit with oil cooler gy6 20in longcase
,
taida crankcase 150cc big bore power kit gy6 longcase
,
taida 150cc big bore power kit
,
180cc engine kit
,
taida 150cc
,
big bore kit
,
gy6 150cc big bore power kit
,
gy6 150cc
,
150cc big bore kit
,
scooter big bore kit
,
bbk