Taida Crankcase Bushing 3-Piece Set (139QMB, GY6)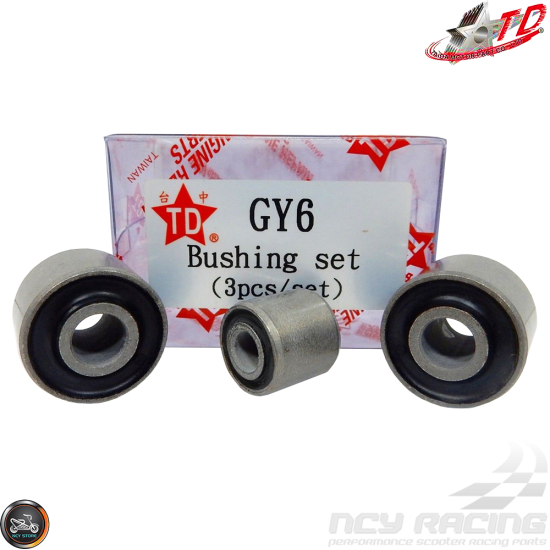 ETA 45 - 60 Days




Description: High-Quality Taida Crankcase Bushing Set is made of a thick metal sleeve and sturdy rubber which also makes installing them so much easier with a compressor tool. Taida Crankcase Bushing 3-Piece Set includes two front crankcase bushings and one rear engine shock bushing for the 139QMB 49/50cc, GY6 125/150cc crankcase.

Specifications:
Include the following Crankcase bushing set.
• 2x Front Crankcase Hanger Bushings
• L: 22mm / ID: 10mm / OD: 28mm
• 1x Rear Crankcase Shock Bushing
• L: 19mm / ID: 8mm / OD: 20mm
• Made in Taiwan
• Fit 54mm Stud Spacing (A-Block)
• Fit 57mm Stud Spacing (B-Block)
• Fit GY6 125/150cc+
• Fit QMB 49/50cc+
Supported Models: 139QMB 49/50cc 4-stroke, GY6 125/150cc 4-stroke, 152QMI 125cc, 157QMJ 150cc, 161QMK 170cc, 161QML 200cc, Chinese Scooter, ATV, Genuine Buddy, Kymco, Polaris RZR 170, Ruckus, TaoTao, Vento, and virtually any other GY6-based engine with these measurements.
-----
Item Weight & Package Dimensions:
• 0.219 pounds | 4.75" (L) x 3.45" (W) x 1.16" (H)

Taida Crankcase Bushing 3-Piece Set (139QMB, GY6)
Stock:

ETA 45 - 60 Days

Part #:

GY6-BUSH
Taida
Ex Tax: $17.95
Price in reward points: 18
Tags:
taida crankcase bushing 3-piece set 139qmb gy6
,
taida crankcase bushing set
,
taida bushing set gy6
,
taida crankcase bushing
,
crankcase bushing gy6
,
engine bushing set gy6
,
engine bushing set
,
engine bushing set gy6
,
taida engine bushing
,
engine bushing gy6
,
engine mount bushings
,
rear bushings
,
crankcase rear bushing
,
crankcase mount bushing
,
center crankcase bushings
,
gy6 engine bushings
,
gy6 crankcase bushings
,
engine bushings