NCY Throttle 7/8in Cam Type (GY6, Ruckus, Universal)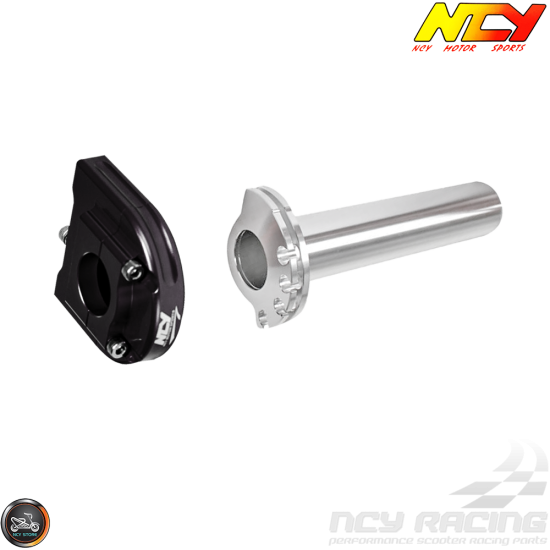 Description: NCY Throttle 7/8" Accelerator Cam Type 22mm with 4 cable mounting positions and tension adjuster. For most scooters and motorcycles with 7/8 inch handlebars. Compatible with CVK and PWK carburetors.
NOTE: If throttle cable becomes dry (non-lube). Recommend use lubricating grease, oil, or WD-40 before use. This also helps ease cable friction wear and tear in throttle cable's sleeves, use lubricating tools to help grease where inner throttle sleeve and cable inside line ONLY.
Recommended use hairspray to help ease of rubber grip set slide onto the handlebar left-side and onto the throttle sleeve right-side. Hairspray will allow it to tack dray in minutes, thus allowing grip usage after 10-15 minutes applied. Or if available use an air-compressor wedge open a tiny air pocket in front of the rubber grip while pressing from behind grip to slide onto or off the handlebar and onto or off the throttle sleeve without the use of chemicals.
Specifications:

Include the following Throttle cam.
• Rt Throttle L: 129.1mm (5.08") / ID: 22.66mm / OD: 25.73<52.85mm
• Rt Cam Housing L: 23.34mm (0.92") / ID: 21.48<35mm / OD: 60<75mm
• Housing Colors (choose one): Black, Blue, Gold, Orange, Red
• Made in Taiwan
• Fit Handlebar OD: 22mm (7/8")
• Fit QMB 49/50cc+
• Fit GET 49/50cc+
• Fit GY6 125/150cc+

Supported Models: 139QMB, GY6, Honda Ruckus, Zuma, Rattler, and virtually any other scooter with these handlebar measurements.
-----
Item Weight & Product Dimensions:
• 0.306 Pounds | 5.08" (L) x 0.846" (ID) x 2.953" (OD)
NCY Throttle 7/8in Cam Type (GY6, Ruckus, Universal)
Stock:

34

Reward Points:

2

Part #:

0800-1127

NCY
Ex Tax: $65.00
Price in reward points: 65
Tags:
ncy throttle tube accelerator cam type orange 7-8 inch
,
ncy cam type accelerator throttle sleeve
,
ncy cam type accelerator throttle tube
,
ncy throttle sleeve
,
ncy throttle tube
,
gy6 throttle tube
,
gy6 throttle tube
,
scooter throttle sleeve
,
scooter throttle tube
,
ncy orange throttle cam type
,
ncy black throttle cam type
,
ncy gold throttle cam type
,
ncy red throttle cam type
,
ncy blue throttle cam type