NCY Brake Caliper 4-Piston Black (Honda Ruckus)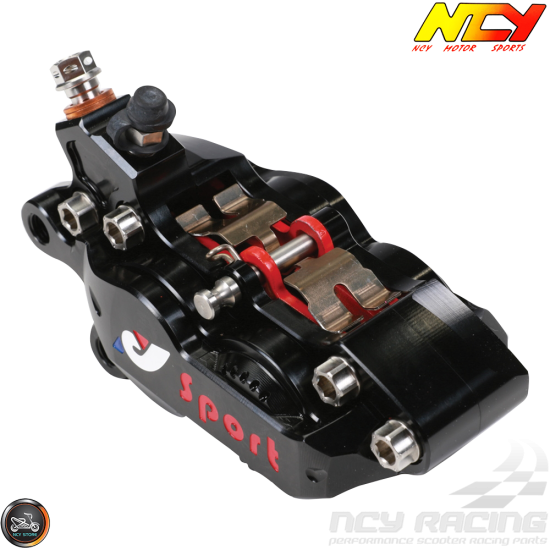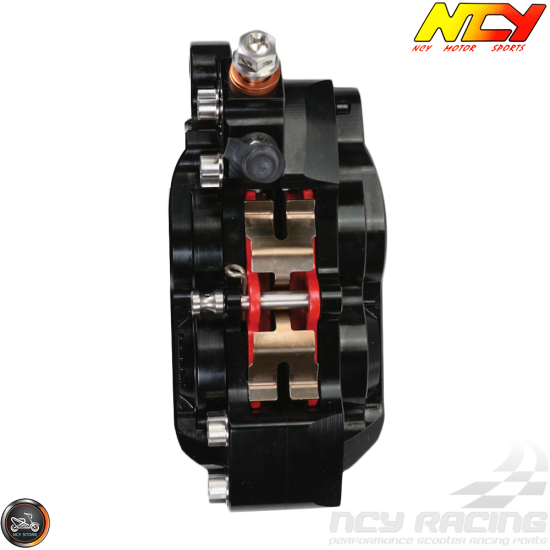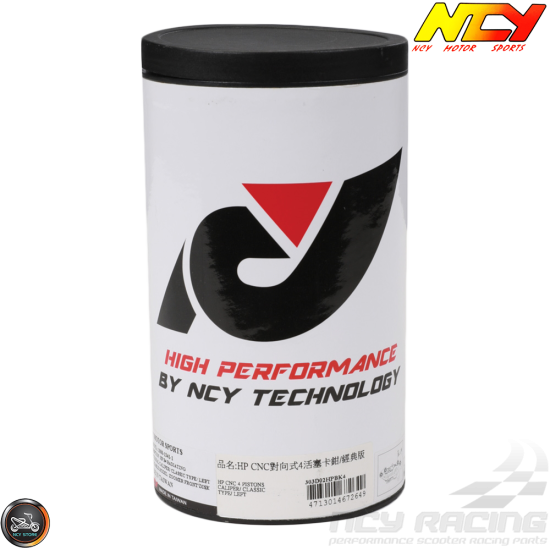 Description: High-Quality, NCY Brake Caliper Four Piston Black. This four-piston caliper is a great upgrade over the single piston calipers that are standard on most Honda Ruckus. Not only do you get better stopping power with this brake caliper, but there are also many more brake pad compound options available.
This NCY Front End Slammed Black Kit comes with this same NCY Brake Caliper Four Piston Black. It's stunning stealth black designed not just for looks but also designed for performance, power, maneuvering, and safety. Pair superbly well with the NCY Front Fork Slammed Black Set provides a smoother ride while lowering your front end 51mm! And, NCY Rim Front 10" Black 10-Spokes—rim NOT included, sold separately.
Specifications:
Includes the following Front-Fork shock set, Axles, Brake Assembly, Cables, Bolts, and Accessories.
• 1x Brembo-Style Four Piston Caliper L: mm / W: mm / H: mm
• 1x Bleeder Bolt w/Rubber Cap: M8
• 2x Brake Pads (each) L: 70mm / W: 42.5mm / Thick: 0.326mm
• Color: Black
• Made in Taiwan
• Fit Caliper Adapter: 200mm B4
• Fit Disc Floated: 200mm
• Fit Ruckus
Supported Models: NCY Front End Slammed Disc Conversion Kit (Part# 1000-1326); Honda Ruckus, and virtually any other scooter with these measurements.
-----
Item Weight & Package Dimensions:
• 1.5 pounds | 9" (L) x 6" (W) x 6" (H)

NCY Brake Caliper 4-Piston Black (Honda Ruckus)
Stock:

39

Reward Points:

10

Part #:

1000-1341

NCY
Ex Tax: $256.00
Price in reward points: 256
Tags:
ncy brake caliper 4 piston blak
,
ncy brake caliper
,
ncy brake caliper four-piston
,
ncy brake caliper four-piston honda ruckus
,
front brake kit honda ruckus
,
ncy front fork slammed brake caliper
,
ncy front fork brake caliper
,
ncy front end slammed brake caliper honda ruckus
,
ncy front end slammed brakes
,
ncy front end slammed brembo-style brake caliper
,
ncy brake caliper honda ruckus
,
ncy brake caliper four-piston black ruckus
,
ncy brake caliper four-piston blue
,
ncy brake caliper four-piston gold
,
ncy brake caliper four-piston grey