Yoshimura Exhaust RS-2 Carbon Full System (GY6)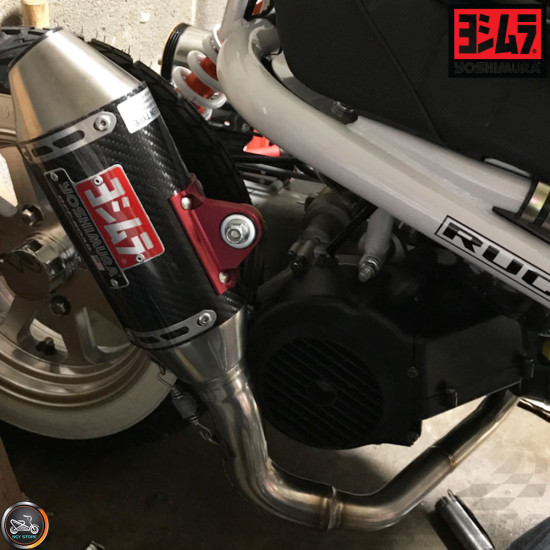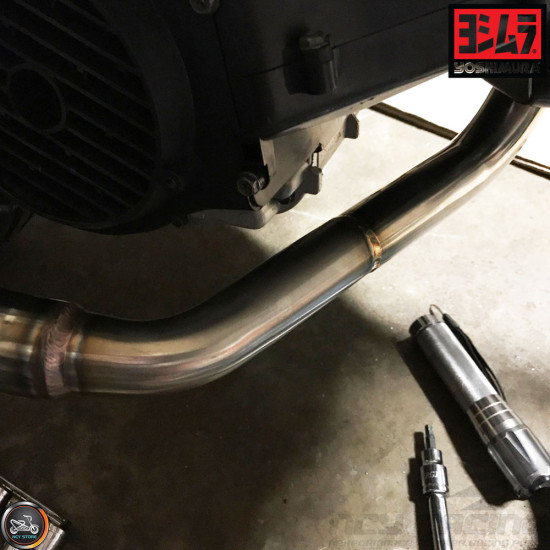 Description:
Yoshimura RS-2 Carbon V2 Short exhaust system is a potent and versatile pipe that was engineered to provide useful power gains throughout the entire rpm range. The pyramidal shape of the canister offers increased durability and allows for greater packing volume which lowers sound levels. Working in conjunction with factory race teams has allowed Yoshimura to increase performance, keep sound levels to a minimum and centralize mass. The end result is a sound-compliant exhaust system that gives you an unparalleled competitive advantage.
The Yoshimura Exhaust and stainless-steel header with a custom stainless-steel bracket for fatty tire 10" 12x7, 12x8, or 13". Perfect suit for custom GY6 125/150cc+ with a fatty tire.
When changing a cylinder kit or an exhaust, it's a good idea to pick up a few extra exhaust studs + nuts M8 set since these can easily need replacing and bring your project to a grinding halt while you wait.

NOTE: This Yoshimura exhaust system is designed and intended for closed-course competition use only. Downloadable Installation Instructions & Parts Diagram.
Features:

• Diamond-Shaped Sleeve
• Large Volume Muffler Pak
• Laser-Etched Heel Guard
• Straight Baffle Ample-Flow
• USFS Approved Spark Arrestor
Specifications:

Includes the following exhaust, exhaust plug, header, heat shield, mounting hardware, and Yoshimura Stickers.
• 1x Carbon Fiber Muffler L: 10.85" / W: 3.47" / H: 4<5.5"
• Stainless Steel End-Cap Open ID: 1.275"
• Stainless Steel Pipe Open ID: 1.75"
• 1x Rubber Exhaust Plug (Red) L: 5.5" / OD: 0.98<2.16"
• 1x Stainless Steel Pipe Plague L: 6.5" / W: 0.488" / H: 1.5"
• 1x Stainless Steel Bracket L: 15.5" / W: 0.488" / H: 1.5"
• 1x Stainless Steel Header L: 17" (w/bend)
• Cylinder Connection ID: 1.12" / OD: 1.22"
• Muffler Connection ID: 1.66" / OD: 1.74"
• 2.6 lbs. Lighter vs Stock
• Made in the U.S.A.
• Fit Exhaust Gasket: 27mm / Studs: M8 / Nuts: M8 / Socket: 12mm
• Fit Fatty Tire 10" 12x7, 12x8, or 13"
• Fit GY6 125/150cc+

Supported Models: GY6 152QMI 125cc, 157QMJ 150cc, 161QMK 170cc, 161QML 200cc, Chinese Scooter, Genuine Buddy, Kymco, Maddog, Ruckus, Vento, and virtually any other GY6-based engine with these measurements.
-----
Item Weight & Package Dimensions:
• 5.75 pounds | 18" (L) x 10" (W) x 5" (H)
Yoshimura Exhaust RS-2 Carbon Full System (GY6)
Stock:

40

Reward Points:

25

Part #:

YS-701GY6-CA
Yoshimura
Ex Tax: $629.00
Price in reward points: 629
Tags:
yoshimura exhaust rs-2 carbon full system gy6
,
yoshimura exhaust rs-2 carbon v2 short gy6
,
yoshimura rs-2 c exhaust arbon v2 short gy6
,
gy6 yoshimura exhaust
,
yoshimura exhaust stroker pipe type a honda ruckus
,
yoshimura exhaust stroker pipe honda ruckus
,
ruckus racing exhaust
,
gy6 racing exhaust
,
racing exhaust ruckus
,
racing exhaust gy6
,
yoshimura exhaust honda ruckus
,
yoshimura exhaust
,
yoshimura ruckus exhaust
,
yoshimura gy6 exhaust
,
exhaust
,
ruckus exhaust
,
gy6 exhaust