NCY Stator Fan Turbo Black (QMB, GY6, Universal)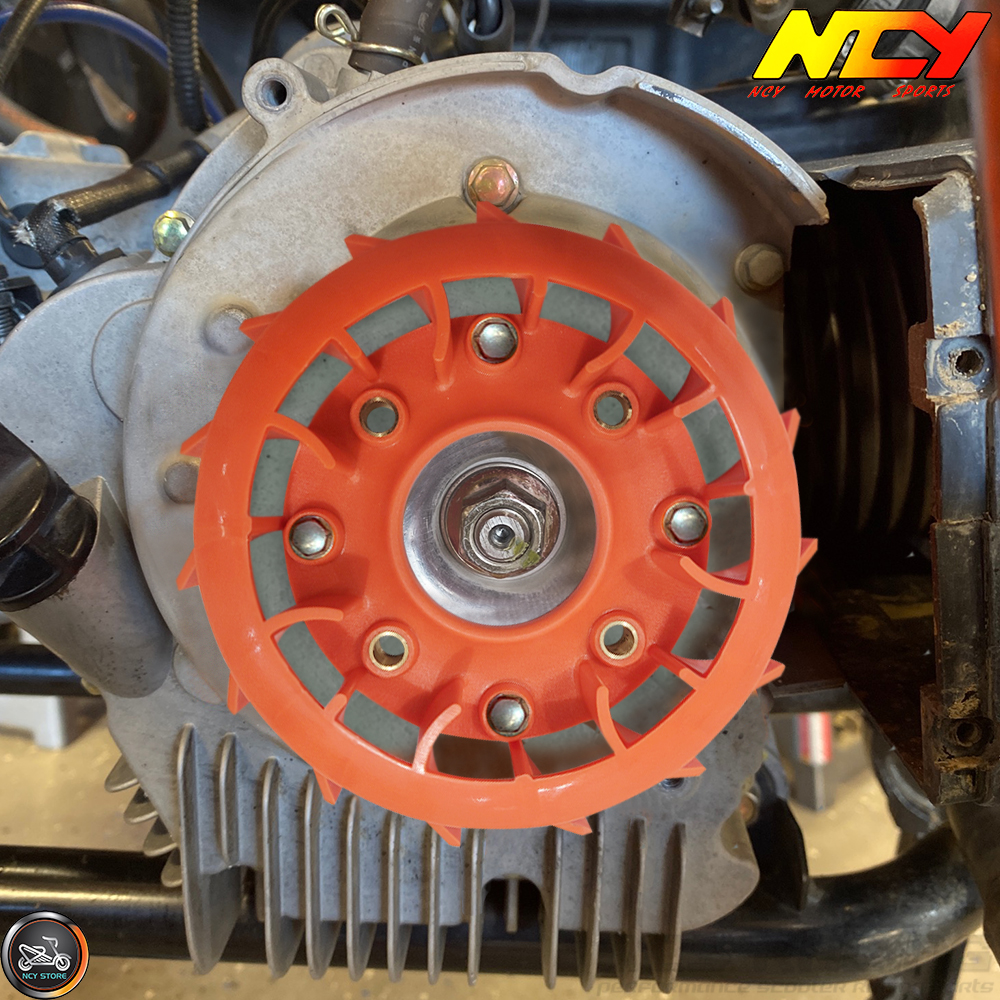 Polaris RZR 170 2018 NCY fan bolt-on easily courtesy photo by Amin Torfi
Description: High-Quality Lightweight NCY racing stator fan for the 139QMB 49/50cc, GY6 125/150cc 4-stroke engines, Honda scooter, Polaris RZR 170, and various unlisted makes/model scooter engines. Also, available in orange color part# 1100-1258.
An excellent fan on stator flywheel for air cooling. This item sits on the alternator rotor aka stator flywheel and is attached with 4 bolts (sold separately, Part# 175-31).
Specifications:
Include the following Stator fan.

• 1x Plastic Stator Fan OD: 124.5mm / ID: 40mm / H: 29.7mm
• Bolt Spacing: 46.5<52.5mm / Diagonal: 66<75mm / Bolt Hole ID: 6.5mm / H: 11.8mm
• Light-Weight Plastic: 2.7oz.
• Made in Taiwan
• Fit Fan Bolts: M6 / Washers: M6 / Shroud: QMB, GY6 / Shroud: Seal / Screws: M5 / Socket: 8mm
• Fit Flywheel Shaft Nut: M10 / Washer: M10 / Magnet: 8 / Socket: 14mm (Fit 139QMB ONLY)
• Fit Flywheel/Variator Shaft Nuts: M12 / Washers: M12 / Magnet: 8 / Socket: 17mm, 27mm (Fit GY6 ONLY)
• Fit GY6 125/150cc+
• Fit QMB 49/50cc+

Supported Models: GY6 139QMB 49cc-50cc 4-stroke, 152QMI 125cc, 157QMJ 150cc, 161QMK 170cc, 161QML 200cc, Chinese Scooter, ATV, Genuine Buddy, Kymco, Polaris RZR 170, Ruckus, TaoTao, Vento, and virtually any other GY6-based engine with these measurements.

-----
Item Weight & Product Dimensions:
• 0.119 pounds | 4.901" (OD) x 1.574" (ID) x 1.169" (H)

NCY Stator Fan Turbo Black (QMB, GY6, Universal)
Stock:

32

Part #:

1100-1540

NCY
Ex Tax: $19.95
Price in reward points: 20
Tags:
stater fan
,
turbo fan
,
stator fan
,
black cooling fan 139qmb
,
turbo fan 139qmb
,
stator fan 139qmb
,
139qmb racing fan
,
139qmb black turbo fan
,
stator fan 139qmb
,
ncy black cooling fan gy6
,
ncy turbo fan gy6
,
ncy stator fan gy6
,
ncy racing fan
,
ncy black turbo fan
,
stator fan gy6
,
stator fan honda
,
ncy black fan polaris rzr 170
,
ncy turbo fan polaris rzr 170
,
ncy stator fan rzr 170
,
ncy polaris rzr 170 fan
,
polaris rzr 170 black fan
,
stator fan polaris rzr 170
,
stator fan rzr 170