Polini Variator Roller Weight Set 16x13 (DIO, GET, QMB)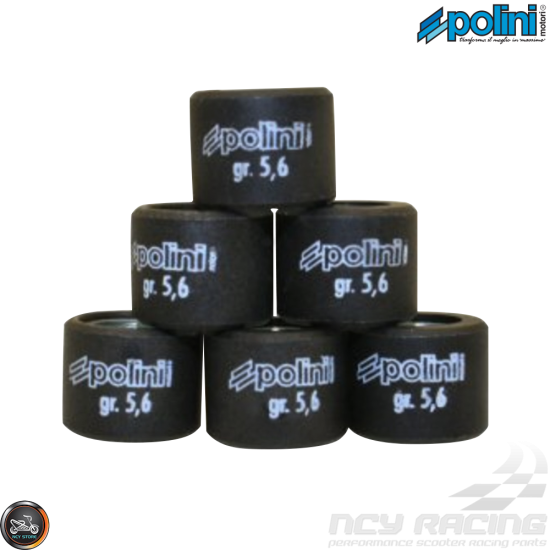 Description: Polini Variator Roller Weight Set 16x13 for Honda DIO/Elite, GET, and 139QMB 4-stroke engines. Polini Roller Weights are the latest roller weights to hit the market and the most advanced weights available. These variator rollers perform up to 20% better than standard round weights and last up to 18% longer with 22% less performance material loss. The weights have several unique features such as their composite material being nylon for faster performance.
Polini Variator Roller Weights means better performance from your scooter no matter what stage you are in upgrading your scooter. Simply add 5.6-gram or 6.9-gram weights and a CVT Kit, and a new belt for a powerful upgrade. The larger weight size will add top end only when you are doing other upgrades to make up for the loss of bottom or take-off. The same is true for lighter weights, if you go too light you will need to make up for the loss on the top end. 40/50cc scooters we have found do best with 5.6-gram or 6.9-gram weights, use 5.6-gram for over 200lbs. 6.9-gram under 200lbs. Add the NCY variator to complete your upgrade.
Compatible with most variator roller's housing on the market works on Yamaha JOG Minarelli engines, Chinese Yamaha Clones such as the 1PE40QMB 1E40QMB engines, Honda Ruckus, 139QMB 50cc 4 stroke engines, Vertical Honda DIO style 2 stroke engines found in SYM and Kymco Scooters, as well as Aprilia Scooters with Piaggio engines, and Franco-Morini 50cc engines found in the 1E41QMB Suzuki AD50 AG50, TGB R50X, TGB 101, TGB 303 and Peirspeed Scooters.

NOTE: Variator housing in Fig.2 sold separately (Part# 1200-1050). Please select weight from the menu.
Specifications:

Include the following Roller weight set.
• 6x Roller Weights: 16x13 5.6gm<6.9gm
• Made in Italy
• Fit Variator Housing: 88mm, 89mm or 95mm / Slides: 3 / Boss: 20mm / Shims: 20mm
• Fit Variator Shaft Nut: M12 / Washer: M12 / Socket: 17mm
• Fit Belt Size: 654, 669-18-30 (Fit DIO ONLY)
• Fit Belt Size: 660-18-28 (Fit Metro ONLY)
• Fit Belt Size: 785-18-30 (Fit Ruckus ONLY)
• Fit Belt Size: 669, 729, 788-18-30 (Fit QMB ONLY)
• Fit Dowel Pin Set (8x10mm)
• Fit DIO 49/90cc+
• Fit GET 49/50cc
• Fit QMB 49/50cc+

Supported Models: NCY CVT Kit (Part# 1200-1171); Honda Dio AF16 AF18E 50; Elite S/SE/SR 1994-2001, Daelim Cordi 50, Kymco Fever/ZX50, SYM DD50, GY6 40QMB 50cc 2-stroke, 139QMB 49cc-50cc 4-stroke, 50QMF 90cc-100cc, GY6 139QMB 49cc-50cc engines, Buddy50, Filly50, Kymco, MetropolitanGET, QLink, Peugeot, Piaggio, RoughHouse, RuckusGET, SYM, TaoTao, and virtually any scooter engine with these measurements.
-----
Item Weight & Package Dimensions:
• 0.074~0.0912 pounds | 3.486" (L) x 2.852" (W) x 1.050" (H)

Polini Variator Roller Weight Set 16x13 (DIO, GET, QMB)
Polini
Ex Tax: $19.95
Price in reward points: 20
Tags:
metropolitan get roller weights
,
metro get roller weights
,
honda ruckus get roller weights
,
ruckus get roller weights
,
dio roller weights
,
qmb roller weights
,
roller weights
,
polini variator rollers weight set 16x13 dio qmb
,
polini variator rollers weight set 16x13 139qmb buddy50 roughhouse
,
polini 16x13
,
polini 16x13
,
polini 16x13
,
139qmb polini 16x13
,
139qmb polini 16x13
,
polini variator rollers 16x13
,
dr pully rollers 16x13
,
139qmb polini rollers
,
139qmb rollers weights 16x13
,
139qmb polini rollers