Taida Cylinder 62mm 174.5cc Liquid Cool Kit w/Forged Piston Fit 54mm (GY6)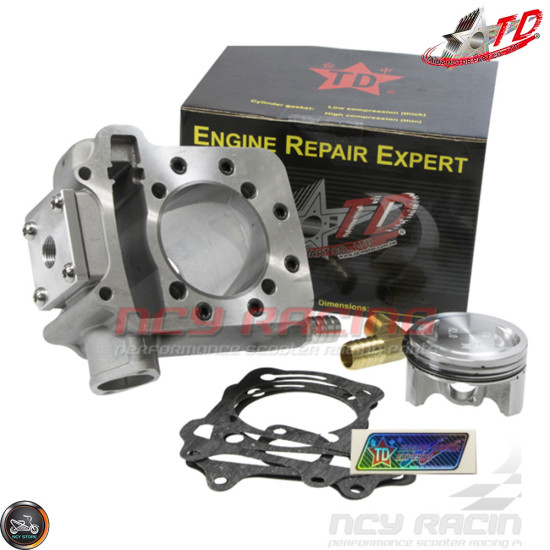 Description: Liquid Cooled Taida Cast-Iron Cylinder 62mm 174.5cc with Forged Aluminum Piston offers better durability and reduced friction for 54mm stud GY6 125/150cc + engines. The cylinder bore is 62mm. Taida 62mm Cylinder Big Bore Kit is suitable for all liquid-cooled 4-strokes 125-150cc Kymco engines (scooters), and most Chinese imported vehicles 125/150cc (scooters, quads, and buggies).
NOTE: Boring and machining required.
Specifications:
Includes the following Cylinder, Piston + Rings, Gaskets (chain tensioner gasket, Hi and Low compression base gaskets, steel head gasket), Wrist pin, Circlips, Coolant fittings, and Taida Sticker.
• 1x Forged-Alumin Piston: 62mm
• 5x Piston Rings: 62mm
• 1x Wrist Pin 43x15x9.85mm w/G-Clips
• 1x Cast-Iron Cylinder (liquid-cooled): 62mm
• Outer Sleeve Diameter: 65.5mm
• Cylinder Height: 69.3mm
• Overall Height: 90mm
• Made in Taiwan
• Fit Intake Studs: M6 / Nuts: M6 / Socket: 10mm
• Fit Exhaust Studs: M8 / Nuts: M8 / Socket: 12mm
• Fit Cylinder Studs: 195mm 203mm / Nuts: M8 / Washers: M8 / Side Bolts: M6 / Socket: 8mm-12mm
• Fit 54mm Stud Spacing (A-Block)
• Fit 54mm Rocker Arm 2V Assembly
• Fit Crankshaft 57.8mm +8.2mm
• Fit Dowel Pin Set (10x14mm)
• Fit Cam Chain 46 (92) links
• Fit Chain Guide (standard)
• Fit 54mm Cylinder Head 59mm to 63mm 2V
• Fit GY6 125/150cc+
• Optional: cut plastic fan shroud for best fitment

Supported Models: GY6 152QMI 157QMJ Chinese Scooter, ATV, Genuine Buddy, Kymco, Ruckus, Vento
-----
Item Weight & Package Dimensions:
• 4 pounds | 5.422" (L) x 5" (W) x 3.536" (H)

Taida Cylinder 62mm 174.5cc Liquid Cool Kit w/Forged Piston Fit 54mm (GY6)
Stock:

40

Reward Points:

10

Part #:

GY6-06054-62F
Taida
Ex Tax: $269.00
Price in reward points: 269