Taida Cylinder 67mm 232cc Ceramic Bore Kit w/Forged Piston Fit 57mm (GY6)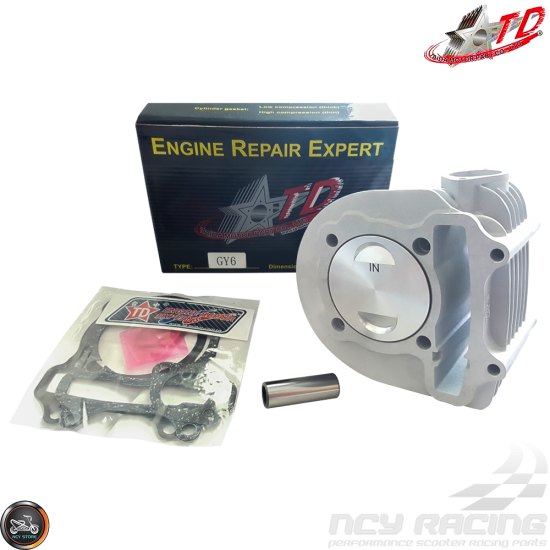 Description: High-Quality Taida Ceramic Cylinder 67mm 232cc with Forged Aluminum Piston offers better durability and reduced friction for 57mm B-Block GY6 engines. The forged piston will offer better power and the ceramic cylinder with more heat dissipation will help to avoid overheating. The ceramic cylinder coating offers better durability with more heat dissipation and can withstand higher temperatures. The bore is 67mm and needs to be used with 57mm Taida improved crankcase and Taida Crankshaft 66mm 2V 8200 Stroker (232cc) with Taida Cylinder Head 67mm 2V.
NOTE: Boring and machining may require unless used Taida Crankcase (Part# GY6-KS-S or # GY6-KS-L).

Specifications:
Includes the following Cylinder, Piston + Rings, Gaskets (chain tensioner gasket, Hi and Low compression base gaskets, steel head gasket), Wrist pin, Circlips, and Taida Sticker.
• 1x Forged-Alumin Piston: 67mm
• 5x Piston Rings (installed): 67mm
• 1x Wrist Pin w/G-clips: 45x15x10mm
• 1x Ceramic Coat Cast-Iron Cylinder: 67mm
• Outer Sleeve Diameter: 69.5mm
• Cylinder Height (w/o sleeve): 75.4mm (no spacer needed)
• Overall Height (w/sleeve): 100mm
• Made in Taiwan
• Fit Intake Studs: M6 / Nuts: M6 / Socket: 10mm
• Fit Exhaust Studs: M8 / Nuts: M8 / Socket: 12mm
• Fit Cylinder Studs: 200mm 208mm / Nuts: M8 / Washers: M8 / Side Bolts: M6 / Socket: 8mm-12mm
• Fit 57mm Stud Spacing (B-Block)
• Fit 57mm Rocker Arm 2V Assembly
• Fit Crankshaft +8.2mm
• Fit Dowel Pin Set (10x20mm)
• Fit Cam Chain 47 (94) links
• Fit Chain Guide (standard)
• Fit 57mm Cylinder Head 63mm to 67mm 2V
• Fit GY6 125/150cc+

Supported Models: Taida Crankcase (Part# GY6-KS-S / GY6-KS-L); GY6 161QMK 161QML Chinese Scooter, ATV, Kymco, Ruckus, Vento
-----
Item Weight & Product Dimensions:
• 2.419 pounds | 5.406" (L) x 3.923" (W) x 3.937" (H)
Taida Cylinder 67mm 232cc Ceramic Bore Kit w/Forged Piston Fit 57mm (GY6)
Stock:

40

Reward Points:

14

Part #:

GY6-01057-67-CF-75
Taida
Ex Tax: $359.95
Price in reward points: 360