Taida Piston Rings 61mm 1.0/1.0/2.0 Set (GY6)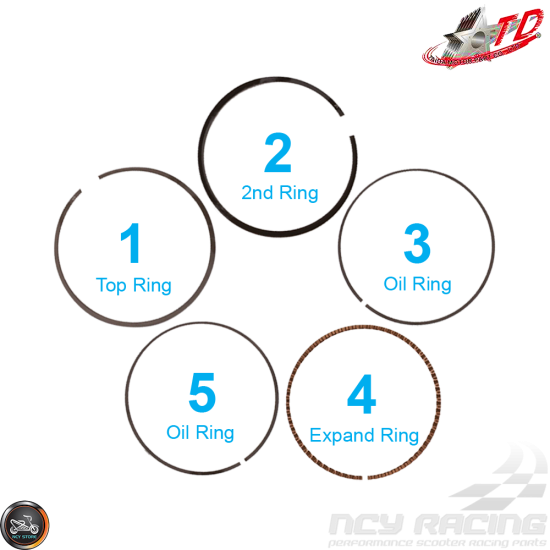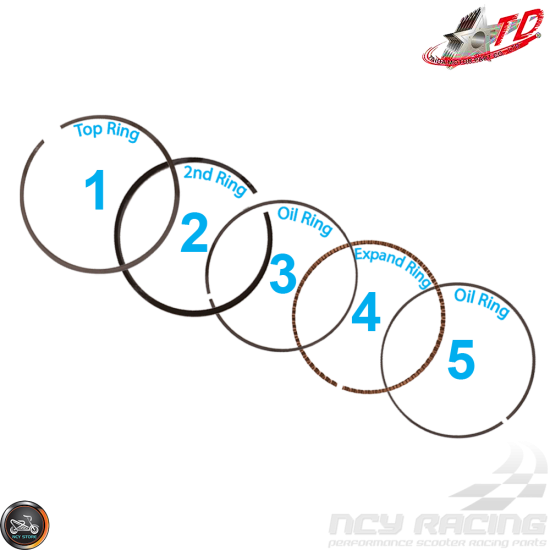 ETA 45 - 60 Days
Description: Taida 61mm Piston Ring Set 171cc for 4-stroke GY6 Engine. Taida piston rings thickness 1.0/1.0/2.0mm offers better durability and reduced friction for GY6 125/150cc+ engines.
NOTE: Please check your current Taida ring thickness to be sure it's 1.0/1.0/2.0mm before ordering. This item may, or may not, work for older Taida Forged Piston 61mm. For complete cast piston, 61mm + rings set see Taida Piston Cast 61mm 2V Set (Part# GY6-PIS61)
Specifications:
Includes the following Piston Ring set.

• 5x Piston Rings: 61mm / Thick: 1|1|2mm
• Made in Taiwan
• Fit Intake Studs: M6 / Nuts: M6 / Socket: 8mm
• Fit Exhaust Studs: M8 / Nuts: M8 / Socket: 10mm
• Fit Cylinder Studs: 187.5mm 195.5mm / Nuts: M8 / Washers: M8 / Socket: 12mm
• Fit 54mm Stud Spacing (A-Block)
• Fit 54mm Rocker Arm 2V Assembly
• Fit Crankshaft 57.8mm +3mm
• Fit Dowel Pin Set (10x14mm)
• Fit Cam Chain 45 (90) links
• Fit Chain Guide (standard)
• Fit Cylinder Piston 61mm 2V
• Fit Cylinder Head 61mm
• Fit GY6 125/150cc+
• Optional: cut plastic fan shroud for best fitment

CORRECTION: Piston "EX" smaller valve indent should be facing down toward the exhaust. This means the entire piston engrave 61mm and the Taida Star symbol would be upside-down NOT like the video shown. We did this for the reading aesthetic of what piston size/brand installed. *New designed, now come aesthetically upright Taida Star symbol and it's marked "IN" piston near indent should face up (intake).

Supported Models: GY6 152QMI 157QMJ 161QMK 161QML Chinese Scooter, ATV, Kymco, Ruckus, Vento
-----
Item Weight & Product Dimensions:
• 0.018 pounds | 2.401" (OD) x 2.204" (ID) x 0.157" (H)

Taida Piston Rings 61mm 1.0/1.0/2.0 Set (GY6)
Stock:

ETA 45 - 60 Days

Reward Points:

1

Part #:

GY6-RING61
Taida
Ex Tax: $29.95
Price in reward points: 30